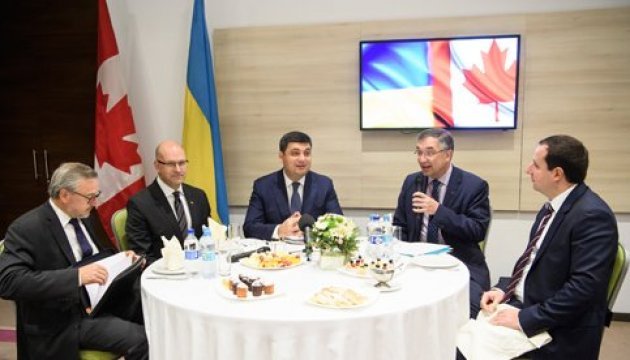 Premier meets with Canadian business community
The Ukrainian government is interested in the development and success of international and domestic business in Ukraine and is open to any proposals that will contribute to this process, Ukrainian Prime Minister Volodymyr Groysman has said.
He stated this at a meeting with representatives of the Canadian business community, the press service of the Ukrainian government reports.
The meeting was held as part of discussion of ways to deepen cooperation between the two countries and the introduction of a free trade regime, which came into force in August this year.
"We set next year's GDP growth at 3%. We understand that this is not enough, and we are ready to improve this figure. But the question of attracting investment arises. I am interested in business success. It is important for anyone working in Ukraine to say: 'I am successful in Ukraine. Ukraine can become one of the most dynamic economies in the continent,'" he said.
Groysman said that the free trade agreement was a good opportunity to deepen cooperation and fill it with concrete content - through joint projects and investment attraction.
He stressed that improving the business and investment climate in Ukraine was a key priority for the government. According to the premier, effective mechanisms of interaction between business and government such as the Business Ombudsman's Council and the Ukraine Investment Promotion Office have already been worked out today, and the outcome of the negotiations is being implemented in structural reforms and initiatives introduced by the government.
op