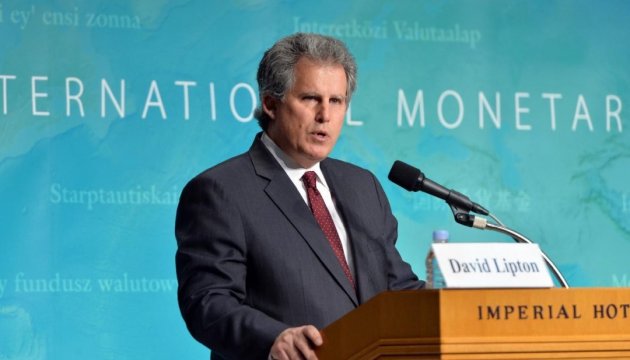 Lipton praises Gontareva's excellent job as NBU governor
Governor of the National Bank of Ukraine (NBU) Valeriya Gontarev has carried out titanic work on cleaning the country's banking system, IMF First Deputy Managing Director David Lipton has said in an interview with the Ekonomichna Pravda online newspaper.
"Valeriya Gontareva has done an excellent titanic job, improving the efficiency of the central bank as an institution, improving the monetary and exchange rate policy, addressing banks with serious problems, including the need to nationalize, like Privat. And this was done during difficult times!" he said.
However, Lipton believes, there are still many challenges, "and as I said in my meeting with NBU management, for a good central bank the work is never done." "It's important for the next governor to have the capability to carry on the work of the central bank independently, to set monetary and exchange rate policy and to preserve the health of banking system. So, we have views about the job requirements, but not about the job applicants," he said.
While assessing the effectiveness of PrivatBank's nationalization, Lipton noted: "Unfortunately, PrivatBank had posed a risk to the whole banking system in Ukraine: it became effectively insolvent, while being the largest commercial bank in Ukraine. It was critical to ensure that bank's operations continue without interruption, and it was successfully achieved."
According to him, "the question of the resolving some of the legacy problems is in the hands of the government." "These tend to be complex economic and legal issues, but they should be sorted out over time," Lipton said.
As reported, on April 10, Gontareva officially announced that she applied to President Petro Poroshenko with a statement of resignation from May 10. After that, she went on vacation.
On August 28, the president's representative in the Verkhovna Rada, Iryna Lutsenko, said that Poroshenko would submit a new candidate for the post of NBU governor by the end of September.
op