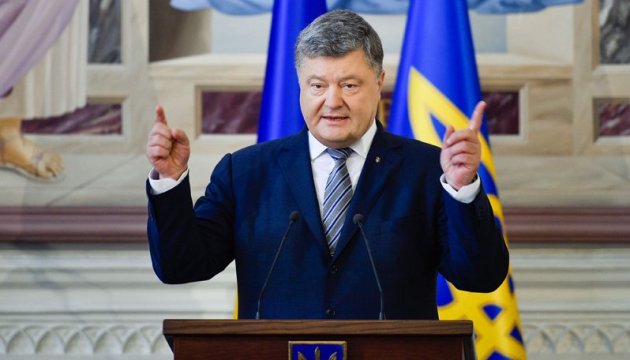 Poroshenko on FTA with Canada: It's not just a trade agreement
Ukrainian President Petro Poroshenko has said that the agreement on a free trade area (FTA) between Ukraine and Canada, which comes into force on August 1, is a sign of a special partnership between the two states.
"Yes! Today the free trade agreement between Ukraine and Canada comes into force," he wrote on his Facebook page on Tuesday.
According to Poroshenko, this document opens up a window of colossal opportunities for Ukrainian businesses - in trade, government procurement, and e-commerce.
But, he said, it is much more important than just a trade agreement.
"This is an eloquent and symbolic gesture of support, a wonderful manifestation of a special partnership that gets stronger between our states - far away geographically, but so close in terms of spirit, values and aspirations," he wrote.
"I sincerely congratulate Ukraine and Canada on a new page of our relations," Poroshenko added.
As Ukrinform reported, the free trade agreement between Canada and Ukraine was signed on July 11 last year during a visit by Canadian Prime Minister Justin Trudeau to Kyiv.
It enters into force on August 1 this year. After that, Canada will immediately cancel customs duties on 99.9% of Ukrainian imports. Ukraine, in turn, will also cancel 86% of customs duties on imports from Canada, bringing customs policy to parity within seven years.
op