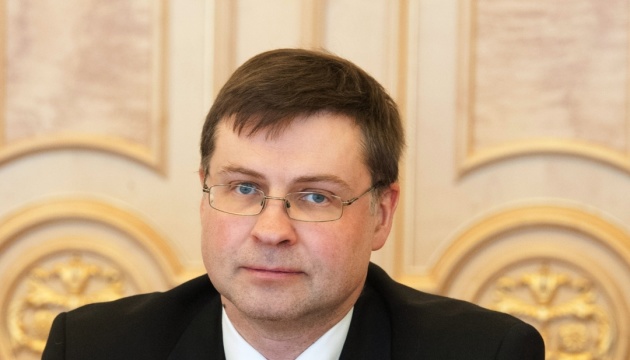 Dombrovskis names conditions for Kyiv to get third tranche of EU macro-financial assistance
Ukraine and the EU are ready to deepen cooperation as part of a joint reform program, launched in 2015, so that Kyiv can get the third tranche of macro-financial assistance worth EUR 600 million by the end of the year.
The respective agreement was reached at a meeting between Ukrainian Prime Minister Volodymyr Groysman and Vice-President of the European Commission for the Euro and Social Dialogue Valdis Dombrovskis in Kyiv on Wednesday, according to the Ukrainian government portal.
The report notes that the meeting took place as part of the Ukraine-EU summit, which began in Kyiv.
Groysman thanked the European Union's delegation for political, economic and social support.
"Now we need to intensify the implementation of the association plan with the EU. We also understand the conditions for macro-financial support - and here we're working with the parliament and are trying to find a solution," he said.
He also spoke about the situation in Donbas.
"I have already said - it's not about two countries, but about two worlds," Groysman said, thanking Dombrovskis for his desire to visit Donbas and assess the situation with his own eyes.
Dombrovskis, in turn, noted that the European Union's political support for Ukraine remained all-round and that the progress in relations between the EU and Ukraine was obvious.
"And today we really need to work to meet the conditions for receiving the third tranche of macro-financial assistance," he said, noting that the conditions for obtaining the funds are not new. They concern the fight against corruption, the extension of energy efficiency programs, the deepening of cooperation in the area of problems of internally displaced persons and specific economic issues, he said.
"We don't have so much time - it's important to complete everything by mid-November, because there are internal EU procedures so that the tranche is paid in December," Dombrovskis said.
The sides also agreed to launch this year the process of drafting new projects and programs of cooperation in economy and the social sphere.
op