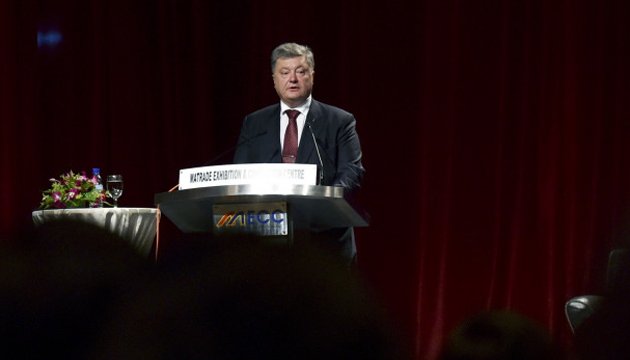 Poroshenko: It's good time for Malaysian investments to come to Ukraine
Ukrainian President Petro Poroshenko met with the representatives of Malaysian business during his official visit to Malaysia on Thursday.
This is reported by the press service of the Head of State.
Poroshenko noted that business forums allowed a better understanding of prospects and opportunities for cooperation and expressed hope that a new page in bilateral economic cooperation would be opened.
According to the Ukrainian President, one of the purposes of his visit to Malaysia is the discussion of prospects for cooperation between the countries. "It is a good time for Malaysian investors to come to Ukraine, which provides many opportunities in different sectors of economy," he said. In particular, the promising areas are agriculture, information technology, space and aviation, defense industry, high-tech manufacturing. "We are planning a large-scale privatization of state enterprises on a competitive and transparent basis, as well as the corporate governance reform," the President stressed noting that the list of those facilities included, inter alia, energy companies, ports and chemical plants, railway, transport and aviation companies etc.
He added that the FTA agreement between Ukraine and the EU provided huge opportunities for investors. "We would like to invite you to use them. Ukraine can become the gates to the EU market for Malaysian business," Poroshenko emphasized.
According to the President, Malaysia, in its turn, can become the gates for Ukrainian business in the region.
ol