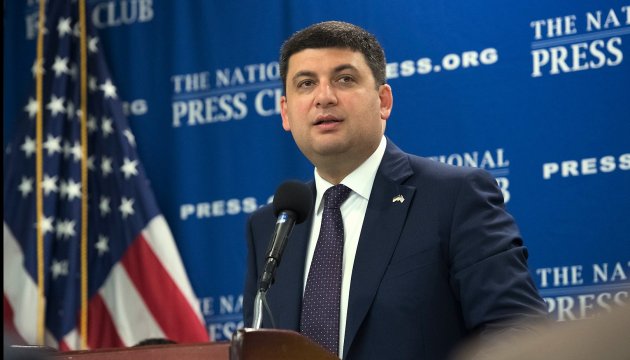 PM Groysman appeals to investors to launch business projects in Ukraine
Ukrainian Prime Minister Volodymyr Groysman, who visited the U.S. this week, spoke at the American National Press Club. Ukrinform's own American correspondent compiled the most interesting topics in a question and answer format. Here's an excerpt from the Press Club session.
Q: Can you give more details about what you and your government are doing to increase foreign direct investment in Ukraine?
A: The key priorities of our government are macroeconomic stability, economic growth. It is understandable that we can achieve these objectives, if we receive appropriate investment in our country. What we're doing today: first, deregulation, which already has its own positive effect. Second, this month, we have launched public privatization of important assets, which can eventually become recipients of investments. A few weeks ago the Ukrainian parliament has decided to launch a large-scale judicial reforms, which will certainly positively influence the business climate in the country. We have started reforming the Customs Service of Ukraine that will have a favorable impact on our import-export operations. By 1 July the government will do away with unnecessary inspectorates. We are constantly working on adaptation of the Ukrainian legislation to EU requirements as it was stipulated by the EU-Ukraine Association Agreement. We have made plenty other steps that will allow us to create a qualitative investment climate today. We have launched the reform of public procurement that provides access to a competitive public procurement market. Deregulation of the energy sector provides an opportunity to invest in that sector. As Prime Minister, I urge everyone to invest in Ukraine, and we are ready to make our best efforts in order to create proper conditions and remove every obstacle and barrier.
tl