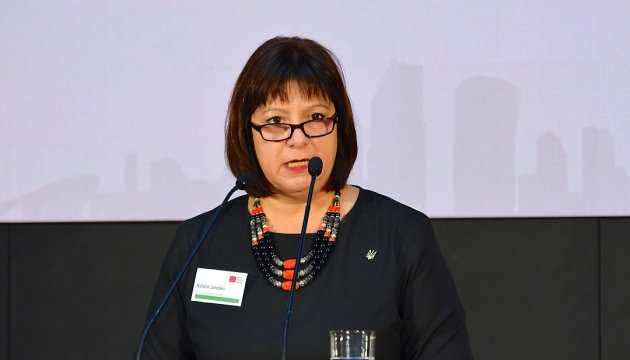 Jaresko names five major challenges for Ukraine
Former Ukrainian Finance Minister Natalie Jaresko sees three key tasks and five important challenges for our country in the short term, noting a "dramatic improvement" in the Ukrainian economy.
Jaresko outlined them, speaking at the East Forum Berlin on Tuesday, Ukrinform's own correspondent reports.
Jaresko listed the priorities. "We need to focus on three key economic issues: macroeconomic stability, business climate and combating corruption," Jaresko said.
The situation has improved considerably, but remains shaky, Jaresko said. She sees five major challenges for Ukraine. First, even if the economy is on the rise again, the start was taken from a very low level, and "much time is needed so that Ukrainians are able to feel the resumption of growth." Second, the economic recovery largely depends on the security situation in Donbas. Third, the global economic climate is unfavorable and this adversely affects Ukraine. Fourth, Ukraine will have to continue moving by imposing fiscal restrictions to reduce the deficit. Fifth: Ukraine is heavily dependent on its external partners and this is a huge asset as "the IMF not only provides financial assistance but is also a confirmation of our commitment to reform."
"We will be able to regain the trust and confidence of the international community and partners only through following the terms of cooperation," Jaresko stressed.
ol