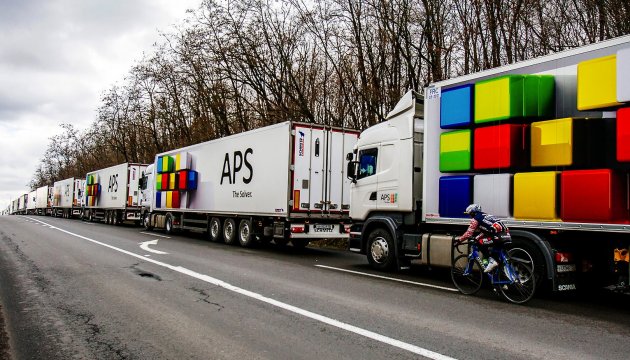 Ukraine activists vow to insist on banning Russian commercial vehicles transit
Organizers of the "bear blockade" have vowed to block highways again if the government does not ban the transit of Russian commercial vehicles.
One of the organizers of the blockade in westernmost Transcarpathian region Taras Deiak told Ukrinform in an exclusive interview.
"Today in Lviv city we gather all coordinators of the blockade to make a decision on how to act from now on. Whatever the government's resolution will be on transit of Russian trucks, we will block their movement and insist on banning transit of Russian trucks. And then on enactment of ban on all Russian businesses," he said.
According to him, this will be peaceful protests. "We believe that by organizing peaceful, but long lasting actions can we eventually ban all Russian businesses in Ukraine. Therefore the blockade and actions will go on now before the issue of transit is settled. We will demand that it must be banned. If the government opens highways - we will still set up highway roadblocks," the activist noted.
Now activists are holding consultations with lawyers, economists and political scientists on the format of protest actions against Russian businesses.
"We live in difficult times, and it must not be the case when some people give their lives for the country, while others complain about their falling profits. War is war," he said.
He said the activists had a conversation with minister of infrastructure Andriy Pyvovarsky.