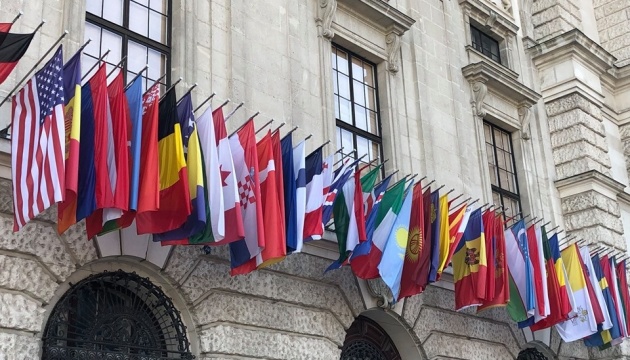 Talks in TCG at impasse over Russia's position – Ukraine at OSCE
Talks within the Trilateral Contact Group have reached an impasse due to Russia's position forcing Ukraine into a "direct dialogue" with Russian puppets in certain areas of Donetsk and Luhansk regions (CADLR), according to Ukraine's Permanent Representative to the International Organizations in Vienna Yevhenii Tsymbaliuk.
"Russia not only rattles its sabres, but also prevents any meaningful progress in the TCG, linking it to fulfilment of Russia's blackmailing demands, such as so-called "direct dialogue" with its occupation administrations in Donetsk and Luhansk. The information, provided today by Special Representative Heidi Grau on the consultations in the TCG and its Working Groups, speaks for itself. The last meeting of the TCG, held this week, was again unsuccessful due to Russia's requests to send any proposals or information directly to its occupation administrations," Tsymbaliuk said at the OSCE Permanent Council meeting on July 8.
According to him, the biggest problem is that this impasse in the TCG has a very negative impact on the lives of thousands of Ukrainian citizens in the conflict-affected areas.
"When Russia blocks additional disengagement areas, it provokes its illegal armed formations to fire at Ukrainian military positions and residential areas. On 4 and 5 July alone, they left two Ukrainian servicemen dead and four wounded," the diplomat said.
When it blocks a decision on 19 demining zones, despite clear agreement reached in the Working Group on Security Issues, it causes additional civilian casualties due to mines and UXOs, which, according to the SMM data, became the main source of such casualties in 2021.
When Russia blocks opening additional EECPs, it leaves hundreds of thousands of civilians cut from their families, as well as administrative services and medical treatment in government-controlled areas.
When it blocks the next stage of mutual release of detainees, it leaves hundreds of people in their current position.
"We reiterate our condemnation of Russia's tactics in the TCG. Using civilians as hostages in order to push Ukraine to "direct talks" with the Russian occupation administrations is inhumane and unacceptable," the ambassador stressed.
As Ukrinform reported, between March 21 and June 6, the OSCE SMM recorded about 21,000 ceasefire violations in eastern Ukraine, which is almost three times more than in the period between January 1 and March 20, 2021.
ish