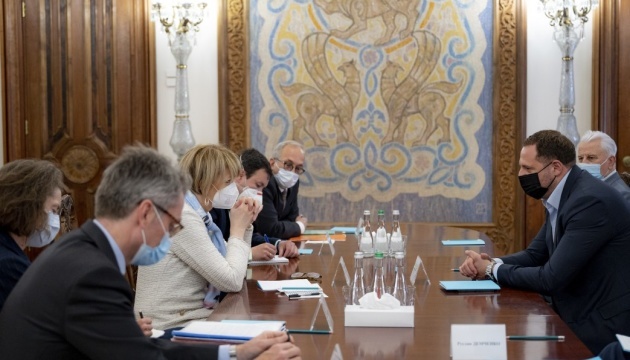 Yermak, Schmid discuss situation in eastern Ukraine
Head of the Office of the President of Ukraine Andriy Yermak discussed the situation in eastern Ukraine and the activities of the OSCE SMM with OSCE Secretary General Helga Maria Schmid at a meeting in Kyiv on May 27.
"The parties discussed the results of the meeting of advisers to the leaders of the Normandy format countries held through video conferencing on May 26, as well as the situation in Donbas and the activities of the OSCE SMM to Ukraine," the press service of the President's Office informs.
Yermak also said that a Ukrainian serviceman had been killed by sniper fire in Donbas on May 27.
"We have not yet managed to agree on a joint statement on a recommitment to the full ceasefire. I want to assure you that Ukraine will not stop for a single moment in continuing its work because it concerns the lives of our people and the security of our land," he said.
The Head of the President's Office thanked the OSCE Mission for its efforts to restore peace in Ukraine. Yermak praised the support of Germany and France within the Normandy format talks.
For her part, the OSCE Secretary General said that the SMM representatives were making every effort to achieve progress in resolving the situation in eastern Ukraine and thanked for appreciation of the Organization representatives' activity.
"I would like to underscore the need for the line of contact to never become a line of division or split. Every effort should be made to provide appropriate humanitarian support. I also mean pensions. Steps must be taken towards reconciliation. Of course, COVID-19 made its adjustments to reality – the number of contact line crossings fell by 97%. I am very grateful to Ukraine for the fact that the entry-exit checkpoints remain open on your side," Schmid said.
At the same time, she pointed out a significant restriction on the freedom of movement of the OSCE SMM.
"More than 90% of these cases happen on the other side of the line of contact. There is also an alarming trend: an increase in the number of cases of suppression of drones, interference in the work of technical means of the Mission," said the OSCE Secretary General.
Andriy Yermak informed that the Ukrainian side focused on those issues during the talks at all international platforms. He added that the possibilities of solving these problems would increase if the ceasefire was observed.
"We will not stop because we have no other alternative, and we must stop this war and return our territories. Even if it is necessary to make a thousand attempts and only one of them will get a chance to achieve results," the Head of the President's Office stressed.
ol