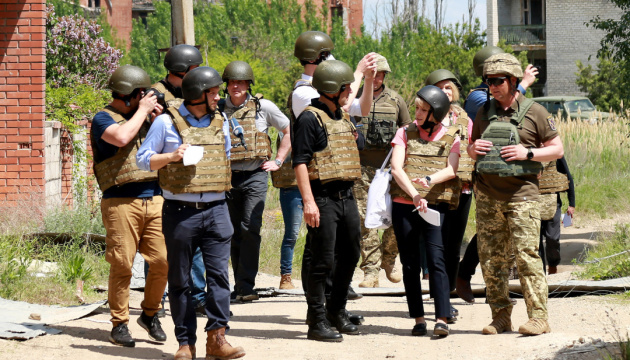 Bundestag delegation visits JFO area in eastern Ukraine
A delegation of the German Bundestag, led by Alliance 90/The Greens co-chair Robert Habeck, visited the Joint Forces Operation area on May 25.
The foreign guests were accompanied by Deputy Commander of the Joint Forces, Major General Eduard Moskaliov.
"The purpose of the visit was to get acquainted with the current security and operational situation in the Joint Forces Operation area, in particular near big towns where civilians live and industrial facilities are concentrated," the Ministry of Defense of Ukraine reports.
The visit began with a briefing in the territory of one of the brigades, where the Deputy Commander of the Joint Forces informed the delegation about the situation along the line of contact and focused on measures taken to improve the humanitarian component. As another proof of Russian aggression, foreigners were shown the remnants of ammunition produced in Russia and fired by the enemy towards Ukrainian positions.
After the briefing, the German delegation visited the ruined village of Shyrokyne to see for themselves the consequences of the "Russian world". Due to the armed aggression of the Russian Federation, the residents of this seaside village near Mariupol left their homes and cannot return to them.
Member of the European Parliament, member of the Committee on Foreign Affairs Viola von Cramon-Taubadel has been to Ukraine and Luhansk and Donetsk regions several times already. She initiated the introduction of green technologies – construction of a biogas plant in Volnovakha and the construction of a wind power plant near Shyrokyne – in the region before the Russian aggression.
"It is very unfortunate that the wind power stations we saw from the roof of a house in Shyrokyne are now in the territory occupied by Russian troops and do not work. It is sad to look at the destruction caused by war. I love Ukraine, I love Ukrainians. You are very good, peaceful people, and this war is a great burden and a trial for you," Viola von Cramon-Taubadel said.
She also noted that European leaders should collectively consider how to effectively help Ukraine.
"Providing mobile hospitals and accepting wounded Ukrainian soldiers for rehabilitation is, of course, good. But we should think about how to provide Ukraine with defensive weapons that will help resist armed aggression because your state has the right to do so," von Cramon-Taubadel concluded.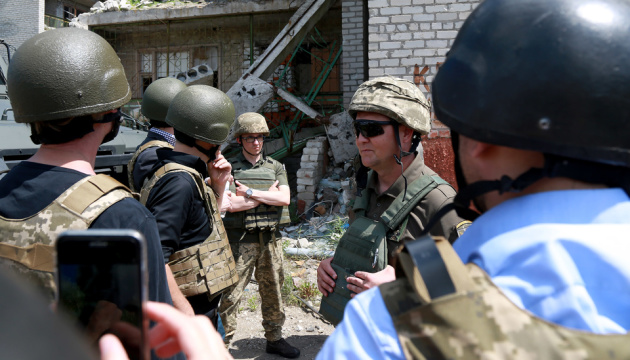 ol