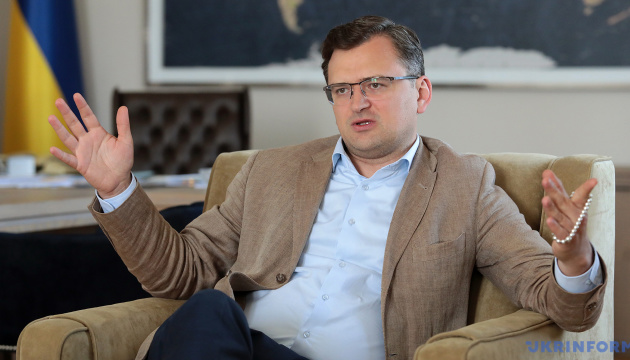 Kuleba on situation on Ukraine's border with Russia: Withdrawal of troops without withdrawal
Minister of Foreign Affairs of Ukraine Dmytro Kuleba says there has been no large-scale withdrawal of Russian troops from Ukraine's border, so the threat of Russia's invasion remains.
"We do not see a withdrawal of Russian troops that would be adequate to the number of troops concentrated along Ukraine's border and occupied territories. What is happening cannot be called a withdrawal of troops. Russian troops in their mass remained in place. What has really changed is the transfer of military units. This is true, but the threat has not passed," Kuleba said in an interview with DW.
He compared Russia's withdrawal of troops to show trials in the Soviet Union – trials without any justice.
"And what we are seeing today is the withdrawal of troops without a withdrawal of troops. And we should remain vigilant in this matter," the foreign minister stressed.
On April 22, Russian Defense Minister Sergei Shoigu ordered the General Staff of the Russian Federation and commanders to withdraw troops, which have recently been moved to Ukraine's borders, to their permanent bases.
As reported, Russia announced the withdrawal of its troops from Ukraine's borders under the pretext of "successful completion of exercises", but at the same time leaves its military presence and technical equipment near Ukraine's borders and in the temporarily occupied territories of eastern Ukraine and Crimea.
Earlier, the Russian Federation amassed a group of about 110,000 troops near the eastern borders of Ukraine and in the occupied Crimea, raising concerns of the Ukrainian authorities and Western partners.
ish