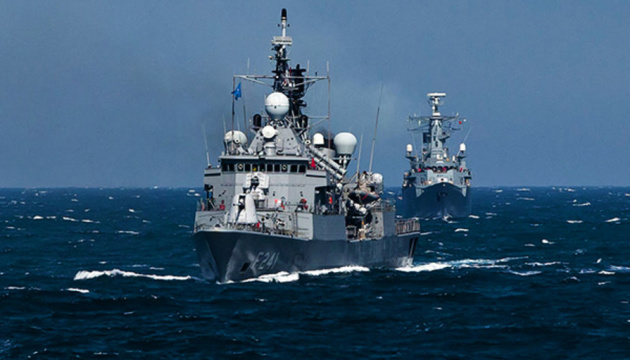 NATO calls Russia's actions a key challenge in Black Sea region
The Russian Federation is using the occupied Crimea to spread its military influence in the Mediterranean and Northern Africa, and its aggressive actions are the main challenge for NATO in the Black Sea region.
NATO Deputy Secretary General Mircea Geoana said this at the Atlantic Club of Bulgaria event entitled "Ahead of the Future: Preparing for NATO 2030" on May 13, an Ukrinform correspondent reports.
"Speaking of the Black Sea and speaking of our region, a key challenge for NATO is, of course, Russia's actions. We have long seen a pattern of aggressive behaviour from Russia, including its forces in Georgia, the illegal annexation of Crimea and ongoing violations of Ukraine's sovereignty and territorial integrity. It is now using Crimea to project power into the Black Sea, and way beyond the Black Sea, towards the Mediterranean and Northern Africa. We must stay vigilant, especially in light of its recent and considerable military build-up in the region," he said.
The NATO deputy secretary general recalled that last week Bulgarian officials briefed NATO's North Atlantic Council on Russia's illegal activities in Bulgaria over the past decade. "NATO has expressed concern over Russia's behaviour and strong support and solidarity with Bulgaria, but also with the Czech Republic and many allies that have been witnessing very assertive and aggressive actions by Russia," he stressed.
Geoana emphasized that the Alliance will reinforce unity, broaden its approach to security, and strengthen global partnerships to uphold the rules-based international order. These issues, as well as the implementation of the NATO 2030 program, will be discussed at a meeting of the Allied leaders in Brussels on June 14.
As reported, Russia announced the withdrawal of its troops from Ukraine's borders under the pretext of "successful completion of exercises", but at the same time leaves its military presence and technical equipment near Ukraine's borders and in the temporarily occupied territories of eastern Ukraine and Crimea.
Earlier, the Russian Federation amassed a group of about 110,000 troops near the eastern borders of Ukraine and in the occupied Crimea, raising concerns of the Ukrainian authorities and Western partners.
ish