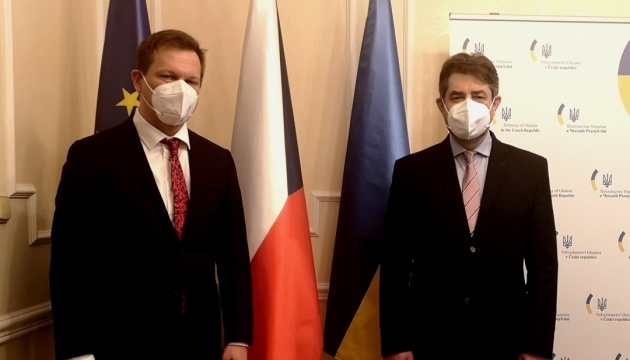 Deputy defense minister of Czech Republic assures Ukraine of support
Deputy Minister of Defense of the Czech Republic Jan Havranek has reaffirmed support for Ukraine in its opposition to Russian aggression and on the path to European integration.
He said this during a visit to the Ukrainian Embassy in the Czech Republic on May 13, Ukraine's Ambassador to the Czech Republic Yevhen Perebyinis wrote on Facebook.
"Jan Havranek reaffirmed the Czech Republic's support for Ukraine's future integration into NATO, in particular, the provision of a Membership Action Plan to our country," the ambassador wrote.
The parties discussed a wide range of issues of military and political cooperation between Ukraine and the Czech Republic; exchanged views on Russia's aggressive actions against both states. Perebyinis informed the deputy minister about the current situation along the Ukrainian-Russian border, where there is still a massive presence of Russian troops.
The interlocutors also touched upon issues related to cooperation between the two countries in the field of military and technical cooperation, in which the Czech Republic remains one of the key partners for Ukraine among the Allies.
In addition, they discussed the state of preparation of a bilateral agreement on the treatment of wounded Ukrainian servicemen in Czech medical institutions.
As a reminder, the Czech Republic, which joined NATO on March 12, 1999, is one of the most active supporters of Ukraine's membership in the Alliance.
ish