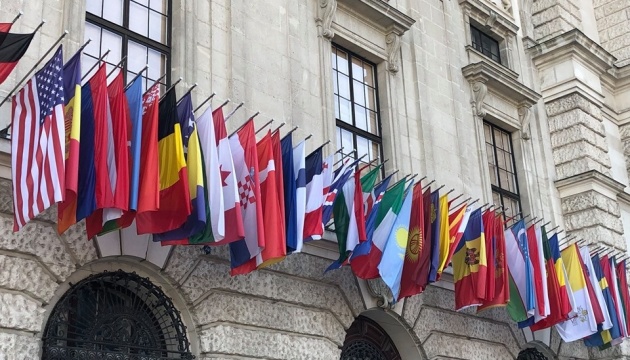 U.S. at OSCE urges Russia to abide by Minsk agreements
Russia must begin to fulfill the commitments it made under the Minsk agreements, starting with the security measures.
Chargé d'Affaires of the U.S. Mission to the OSCE Courtney Austrian said this at a meeting of the OSCE Permanent Council in Vienna on Thursday, May 6, an Ukrinform correspondent reports.
"It is Russia that must cease its intransigence and begin implementing the commitments it made under the Minsk agreements, starting with the security measures," she said.
According to Austrian, last week, Russia again attempted to distance itself entirely from the conflict and asserted Ukraine was hampering peace negotiations by refusing to directly negotiate with Moscow's proxies and supported groups in eastern Ukraine. "Russia manufactured this conflict and continues to control it, ratcheting up or down the tension and violence for its own ends," the American diplomat said.
She also pointed out that the United States continues to closely monitor Russia's announced 'drawdown' of its military equipment and personnel from Ukraine's eastern border. According to Austrian, the U.S. side is concerning that Russia attempted to bolster its own political agenda by threats and intimidation.
"This most recent provocation by Moscow fits neatly into a larger pattern of its destabilizing activities in the region. To argue, as Russia did, that a military activity involving a force of this size required no notification under the Vienna Document frankly strains credibility," she said.
"In advance of its provocative military activities Russia attempted to frame Ukraine as the instigator of a fictional military escalation for which there was never any evidence, while Russia itself increased its military presence on Ukraine's borders. The Kremlin's build-up was not fictional; it was very real," the diplomat stated.
ish