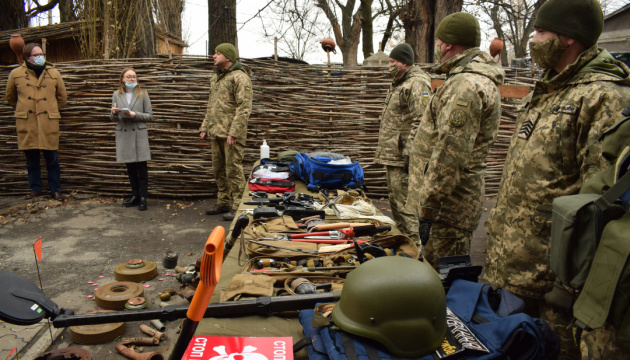 European ambassadors acquainted with mine clearance in JFO area
Representatives of the Ministry of Defense of Ukraine and ambassadors of foreign states discussed the issues of humanitarian mine clearance in the Joint Forces Operation area in Donbas.
"Deputy Minister of Defense of Ukraine Ihor Starobinsky, heads of diplomatic missions of the Kingdom of Norway, the Kingdom of Sweden, the Slovak Republic, the Republic of Croatia, the Republic of Albania and the OSCE Project Co-ordinator in Ukraine made a working visit to the JFO area," the press service of the Ministry of Defense of Ukraine informs.
The main purpose of the visit of European diplomats is to support Ukraine in the implementation of humanitarian mine clearance.
The ambassadors got acquainted with the work of one of the units of the State Special Transport Service of Ukraine as part of the JFO, which removes mines from infrastructure and territory of Donetsk and Luhansk regions.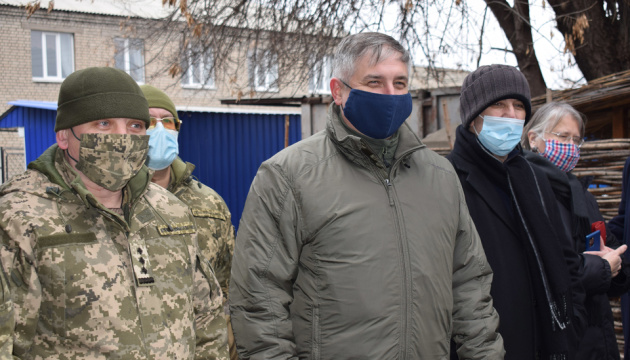 "Mines do not ask about nationality, age or social status. They are equally deadly to military and civilians who find themselves in a combat zone. For the seventh year in a row, this issue is extremely relevant for Ukraine as the territories of some areas of Donetsk and Luhansk regions are one of the most contaminated with mines and ammunition in the world. Every destroyed explosive object is someone's saved life," Starobinsky said.
He thanked foreign diplomats for supporting Ukraine in the field of humanitarian mine clearance and informed that a concept of "humanitarian demining" had been implemented in domestic legislation thanks to Ukraine's friends.
Starobinsky stressed that Ukraine developed national mine action capabilities and enlisted the support of partners to clear land mines and explosive remnants of war in the Ukrainian territory.
As reported, on March 1, nine Ukrainian servicepersons were injured in Donbas as their vehicle hit an unknown explosive device.
ol