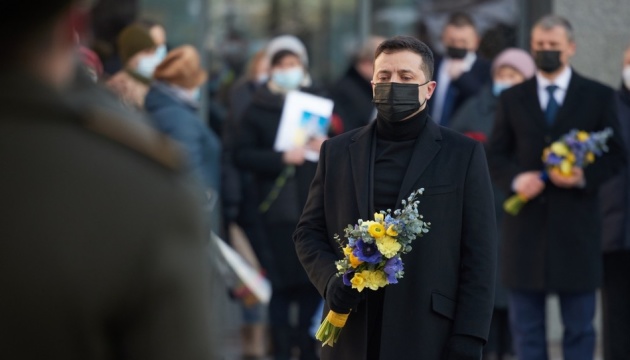 Zelensky honors servicepersons who died for Ukraine's independence
Ukrainian President Volodymyr Zelensky has attended a ceremony to pay tribute to servicepersons of the Ukrainian Armed Forces who died in battles for Ukraine's independence, sovereignty and territorial integrity, the presidential press service has reported.
The ceremony took place outside the building of the Ukrainian Defense Ministry. The names of 51 defenders of Ukraine who died on this day in 2015-2020 were read out. In particular, the participants in the ceremony honored the memory of 48 servicemen who died during the defense of the Donetsk airport. After each name was read out, Guard of Honor soldiers rang the bell and rendered a small arms salute. Zelensky laid flowers at the Memory Bell.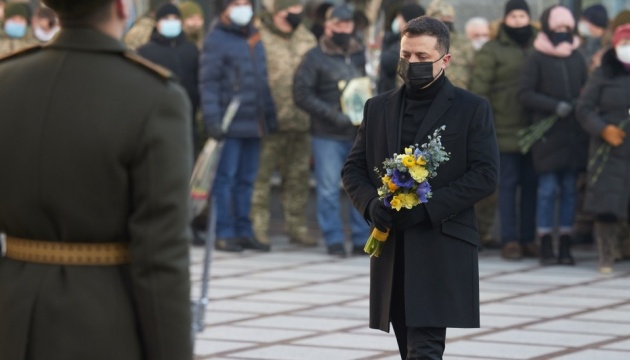 The president also talked to the relatives of the fallen soldiers.
"Ukrainian soldiers at the frontline prove every day that neither the enemy's armed provocations nor the severe frosts will force them to retreat from their land. Every day we thank them for the peaceful sky over our cities and villages and remember the names of those who died defending the sovereignty and territorial integrity of Ukraine. We must do everything to ensure that the number of names heard near the Memory Bell does not grow and that peace finally reigns in Ukraine," Zelensky said.
The ceremony was also attended by Head of the President's Office Andriy Yermak, Defense Minister Andriy Taran and Commander-in-Chief of the Ukrainian Armed Forces Ruslan Khomchak.
op