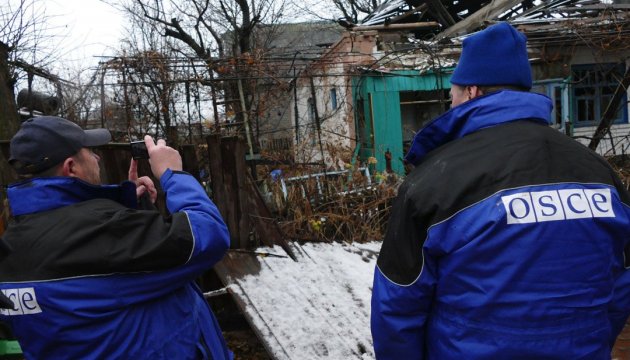 OSCE records 56 ceasefire violations in Donbas over past 24 hours
The OSCE Special Monitoring Mission to Ukraine (SMM) recorded 50 ceasefire violations in Donetsk region and six ones in Luhansk region on Monday, January 11.
The OSCE SMM said this in a report issued on January 12, based on information from the monitoring teams received as of 19:30 on January 11, 2021.
"In Donetsk region, the Mission recorded 50 ceasefire violations, including 36 explosions (of which 34 were undetermined and two were impacts of undetermined weapons), most of which occurred in areas north of Shyrokyne (government-controlled, 100km south of Donetsk) and north-east of Chernenko (government-controlled, 86km south of Donetsk)," the report says.
In the previous 24 hours, the SMM recorded 33 ceasefire violations in the region.
In Luhansk region, the Mission recorded six ceasefire violations – all shots of small-arms fire in an area south-west of the disengagement area near Zolote (government-controlled, 60km west of Luhansk).
In the previous 24 hours, the SMM recorded 16 ceasefire violations in the region.
Following agreement reached at the meeting of the Trilateral Contact Group on 22 July regarding additional measures to strengthen the ceasefire, from 00:01 on 27 July until the end of the reporting period, the SMM has so far recorded at least 5,836 ceasefire violations in both Donetsk and Luhansk regions (including 2,539 explosions, 686 projectiles in flight, 79 muzzle flashes, 54 illumination flares and at least 2,478 bursts and shots).
ish