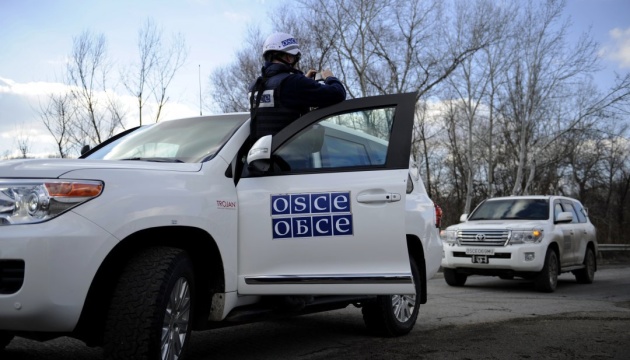 OSCE recorded almost 130 ceasefire violations in Donbas on Jan 5-7
Between the evenings of 5 and 7 January, the OSCE Special Monitoring Mission to Ukraine (SMM) recorded 57 ceasefire violations in Donetsk region and 71 ones in Luhansk region.
The OSCE SMM said this in a report issued on January 8, based on information from the monitoring teams received as of 19:30 on January 7, 2021.
"In Donetsk region, between the evenings of 5 and 7 January, the Mission recorded 57 ceasefire violations, including 13 undetermined explosions," the report says.
The majority of ceasefire violations occurred in southern parts of Donetsk city (non-government-controlled) on the evening of 6 January (all shots and burst of small-arms fire) and north of Shyrokyne (government-controlled, 100km south of Donetsk) on the evening of 5 January.
In Luhansk region, between the evenings of 5 and 7 January, the SMM recorded 71 ceasefire violations, including 58 undetermined explosions, most of which occurred in areas south-east of Popasna (government-controlled, 69km west of Luhansk) on the afternoon of 7 January.
The Mission followed up on reports of a 16-year-old boy, injured due to the detonation of an explosive device on 3 January in Blahodatne (formerly Oktiabr, government-controlled, 77km west of Donetsk).
On 5 January, medical staff at a hospital in Velyka Novosilka (government-controlled, 74km west of Donetsk) told the SMM that a boy had been admitted on 3 January with injuries to his leg and arm consistent with those caused by an explosion and had been transferred to a hospital in Mariupol (government-controlled, 102km south of Donetsk) upon receiving treatment. On 6 January, the boy's father told the SMM over the phone that on 3 January, his son had suffered shrapnel injures to his leg and arm after the boy had taken home and tried to disassemble an object he had found in a dumpster.
ish