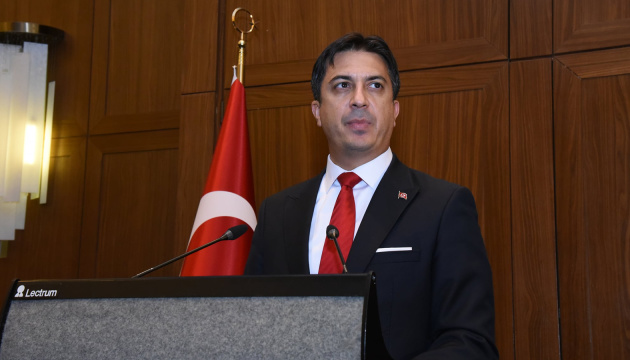 Ambassador: U.S. sanctions against Turkey not to affect defense cooperation with Ukraine
U.S. sanctions against Turkey will not affect cooperation with Ukraine, particularly in the defense and military-technical spheres.
"I don't think that it [U.S. sanctions against Turkey] should be a shadow on our cooperation. This is something that we do not find fair and right. And at the end of the day, our offers are very competitive, forthcoming and that is why these agreements [on corvettes and UAVs] were signed in the first place," Ambassador Extraordinary and Plenipotentiary of the Republic of Turkey to Ukraine Yağmur Ahmet Güldere said in an interview with Ukrinform.
According to the Ambassador, the Turkish defense industry will continue to grow despite sanctions.
"We will be more than happy to do that together with third countries who want to walk this path with us," the diplomat noted.
As for defense cooperation, Turkey's Ambassador to Ukraine pointed out special energy and dynamism.
"We see a great synergy between defense industry of Turkey and Ukraine. We believe that together we can have joint possibilities of production, which will allow us to get stronger nationally and develop better, competitive products, which we can sell to third countries together," he said.
Yağmur Ahmet Güldere highlighted Ankara's interest in aviation and space cooperation with Ukraine. In particular, joint projects with the State Enterprise Antonov were discussed at the "quadriga" format meeting in Kyiv on December 18.
On October 16, President of Ukraine Volodymyr Zelensky and President of Turkey Recep Tayyip Erdoğan met in Istanbul and signed a number of bilateral documents. In particular, Defense Minister of Ukraine Andriy Taran and National Defense Minister of Turkey Hulusi Akar signed a framework military agreement between the governments of Ukraine and Turkey.
On December 14, the Ministry of Defense of Ukraine concluded first-ever direct foreign economic contacts for military goods. Defense contracts with Turkish companies were signed by Defense Minister Andriy Taran.
ol