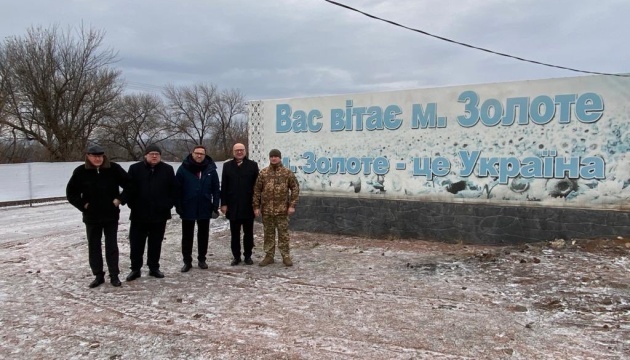 Ambassadors of Visegrad Four countries visit Zolote checkpoint
The ambassadors of the Visegrad Group countries (the Czech Republic, Hungary, Poland and Slovakia) visited the contact line in eastern Ukraine on December 3, the press service of the Polish Embassy in Ukraine reports on Twitter.
"In Luhansk region, the V4 ambassadors to Ukraine inspected the security situation, including visiting the recently opened "Zolote" checkpoint on the contact line," the report reads.
They also visited the Luhansk outpatient cardiology clinic in Lysychansk, where specialized diagnostic equipment purchased by the Visegrad Four funds is already in operation.
The ambassadors presented the implemented and planned humanitarian projects to Governor of Luhansk Regional State Administration Serhiy Haiday.
The Visegrad Group, Visegrad Four, or V4, is a cultural and political alliance of four countries of Central Europe (the Czech Republic, Hungary, Poland and Slovakia), all of which are members of the EU and of NATO. The states have repeatedly spoken out in support of Ukraine's sovereignty.
ish