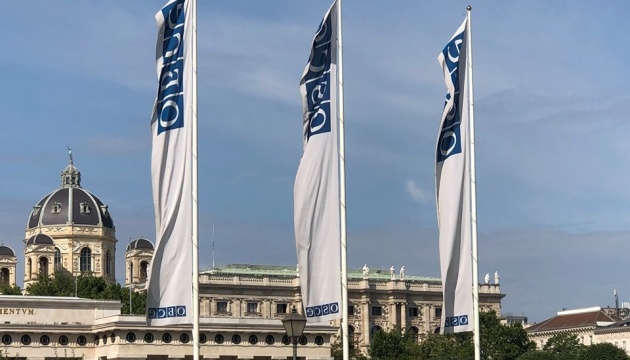 Ukraine reminds about conditions for peaceful reintegration of occupied Donbas
Ukraine remains committed to the peaceful integration of certain areas of Donetsk and Luhansk regions, which is possible only after the withdrawal of Russian troops, mercenaries and weapons.
"Despite what you hear from the Russian delegation in this hall, Ukraine remains committed to the peaceful reintegration of its territories, seized by Russia in 2014. Such peaceful reintegration would be impossible until the Russian troops, mercenaries and weapons are withdrawn from the territory of Ukraine," Yevhenii Tsymbaliuk, Permanent Representative of Ukraine to the International Organizations in Vienna, said at the OSCE Permanent Council meeting in Vienna on 19 November 2020.
The Ukrainian diplomat stressed that while Russia blamed Ukraine for preparation of the so-called "scenario of violence" in Donbas, it continued to supply its illegal armed formations. At the same time, the OSCE SMM continues to record violations of security agreements by the Russian side, both the ceasefire violations and storage of weapons in violation of withdrawal lines
"It should come as no surprise that the withdrawal of the Russian illegal armed formations and mercenaries from the territory of Ukraine became the first paragraph of the action plan, submitted by the delegation of Ukraine to the TCG for consideration of its other participants. Russia's expectations that it will continue supplying its most modern weapon systems to Donbas, and Ukraine will turn a blind eye to them and organize local elections at Russia's gunpoint, are groundless. This contradicts both to the Minsk agreements and the common sense," Tsymbaliuk said.
As a reminder, after the Trilateral Contact Group meeting on July 22, at which additional measures were agreed upon to strengthen the ceasefire from 00:01 on July 27 till the end of the reporting period, the OSCE SMM has recorded a total of 2,427 ceasefire violations in the occupied Donbas.
ol