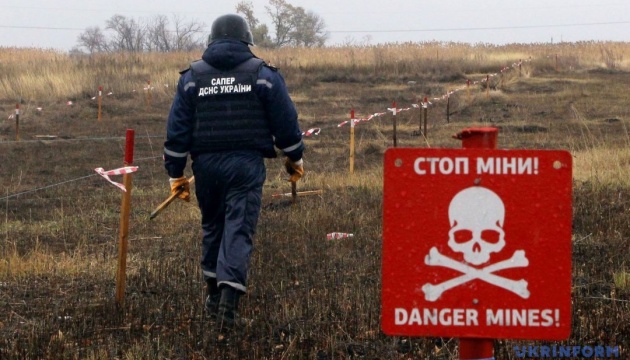 Thirty-five thousand hectares of land cleared of mines in Donbas
During the mine clearance of Donetsk and Luhansk regions in eastern Ukraine, 35,000 hectares of land have been cleared and more than 450,000 mines and explosive devices have been removed.
"In the territory of the two regions, 35,000 hectares of territory have been cleared and more than 450,000 mines and explosive devices have been removed," Commander of the Joint Forces of the Armed Forces of Ukraine, Lieutenant General Serhiy Nayev said at a panel discussion during the V International Conference of Civil-Military Cooperation, an Ukrinform correspondent reports.
Over the years of war, Ukraine has become one of the most mine-contaminated territories in the world, he noted.
"According to preliminary estimates, the mine-contaminated areas in Donbas total about 7,000 sqm in the government-controlled territory and approximately twice as much in the occupied territories of Donetsk and Luhansk regions," the Commander said.
According to him, one of the Joint Forces' priorities is to save the lives of Ukrainian citizens, which requires creating appropriate conditions and increasing humanitarian aid to the most vulnerable segments of the population.
Since the Joint Forces Operation started in Donbas, 1,705 residential buildings and 1,754 km of road infrastructure have been repaired and gas, water and heat supply networks have been restored in more than 300 populated localities.
As noted, 20 thousand residential buildings and industrial infrastructure facilities were destroyed and about 10 thousand residents were killed and injured over the first four years of the occupation and armed hostilities in eastern Ukraine.
"Prior to the start of Joint Forces Operation (prior to April 2018), there were about 10,000 civilian casualties in Donetsk and Luhansk regions. Of them, more than 3,000 people were killed. About 20,000 residential buildings, thousands of facilities of social, industrial, energy, transport infrastructure of public and private sector were destroyed. The losses totalled tens of billions of hryvnias," Nayev said.
According to him, since the beginning of this year, the number of civilian casualties has decreased several-fold.
Nayev added that the Joint Forces had created and continued to improve preconditions for the preparation of a draft National Strategy for Protection of Civilians in Armed Conflict until 2030, which had been prepared by the General Staff of the Armed Forces and was pending Government's approval.
ol