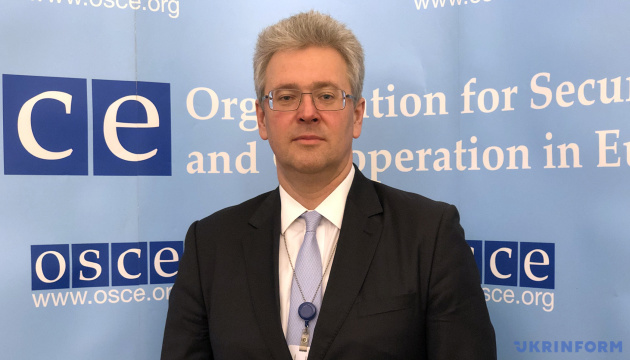 Ukraine at OSCE: Invaders have violated ceasefire 130 times over past two months
The Ukrainian side has registered more than 130 ceasefire violations by the Russian armed formations in Donbas over the past two months.
"In a period of a little over two months since the start of implementation of the package of additional measures to consolidate ceasefire, the Ukrainian side has registered more than 130 cases of ceasefire violations by the Russian armed formations in different locations, 21 cases of operation of UAVs, one case of changing the positioning of the troops, and 20 cases of additional engineering improvement of positions, all done by the illegal armed formations," Ambassador Yevhenii Tsymbaliuk, Permanent Representative of Ukraine to the International Organizations in Vienna, said at the OSCE Permanent Council meeting.
He noted that those actions were flagrant violations of the Minsk agreements and the TCG-agreed additional measures to strengthen the ceasefire.
Although 97 per cent decrease in the number of ceasefire violations, reported by the SMM, is a remarkable achievement, "the security situation in Donbas still remains fragile and unpredictable," Tsymbaliuk stressed.
As noted, on June 21 – September 16, the SMM recorded 485 weapons in violation of their respective withdrawal lines, 94 per cent of which in Russia-occupied parts of Donetsk and Luhansk regions of Ukraine.
As reported, the Trilateral Contact Group agreed on July 22 to establish a full and comprehensive ceasefire in Donbas from July 27.
In particular, it was agreed to ban offensive and reconnaissance operations, use of fire, including sniper fire, and to apply disciplinary measures for ceasefire violations.
ol