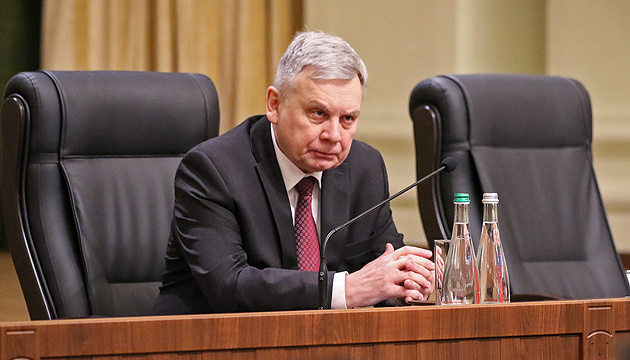 Taran names priority tasks of Ukraine's Defense Ministry
The priority tasks set before the Ministry of Defense of Ukraine by the President of Ukraine — Commander-in-Chief of the Armed Forces of Ukraine Volodymyr Zelensky will be achieved in full, Defense Minister Andriy Taran has said.
"Among the priority tasks of the Defense Ministry are further reform of the Armed Forces of Ukraine, the development and strengthening of their combat capabilities, the implementation of NATO standards on the path of further integration of Ukraine into the Euro-Atlantic region. It is also the provision of the latest weapons and military equipment to the units of the Ukrainian army, primarily those that are performing combat missions in the Joint Forces Operation area," Taran said.
The minister also stressed that the Ukrainian side adheres to a full and comprehensive ceasefire and continues to resolve the situation in eastern Ukraine through political and diplomatic means.
Taran promised to continue to pursue a policy aimed at strengthening the social protection of servicemen. It refers to the creation of decent conditions for military service, the provision of military and their families with housing, decent reimbursement, priority right to enroll in educational institutions, free education, appropriate medical care, development of medical infrastructure, etc.
According to the minister, all these tasks are of paramount importance and require consolidation of efforts, persistence and determination from both the leadership of the Defense Ministry and all personnel of the Armed Forces of Ukraine. Taran stressed that the Armed Forces of Ukraine stand ready to succeed in achieving the set goals.
ish