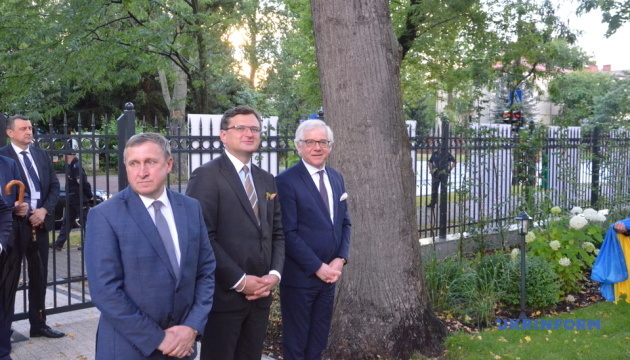 Lithuanian-Polish-Ukrainian brigade won't be expanded
The international Lithuanian-Polish-Ukrainian brigade (LitPolUkrbrig) will not be expanded.
"The brigade was established as a tool of trilateral cooperation within NATO. We have never planned and do not plan to expand this format," Minister of Foreign Affairs of Poland Jacek Czaputowicz said at a joint press conference with Foreign Minister of Ukraine Dmytro Kuleba and Foreign Minister of Lithuania Linas Linkevičius in Lublin, an Ukrinform correspondent reports.
He noted that the three countries were satisfied with functioning of the brigade as it provides an opportunity to increase the defense capabilities.
"For us, the brigade is an important tool of mutual support in defense capabilities, it is an important priority of Polish security policy. Poland wants to strengthen the brigade and looks for solutions that will improve the fulfillment of its functions as much as possible," Czaputowicz said.
In particular, it is planned to reduce the term of personnel rotation from three to two years.
As reported, the foreign ministers of Ukraine, Poland, and Lithuania announced the creation of the "Lublin Triangle" format for political, economic, and social cooperation.