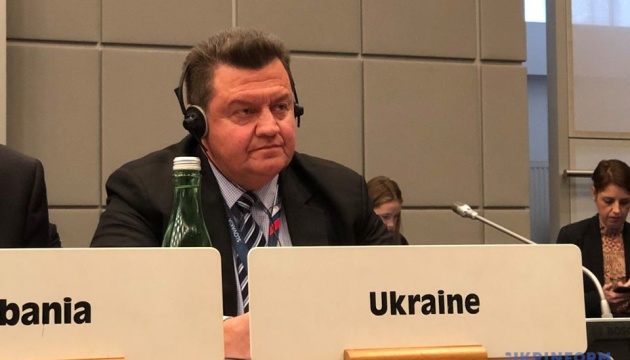 Lossovskyi: Invaders restoring positions in disengagement area close to Petrivske
During an online meeting of the OSCE Forum for Security Co-operation on Wednesday, the Ukrainian delegation drew the attention of the participating states' missions to the covert restoration and use of positions in the disengagement area close to Petrivske by Russian occupational forces.
"Russian occupational forces continue to actively use their old engineering positions, simulating dismantlement, on the western outskirts of Petrivske, which is located in the disengagement area No.3. At today's meeting of the Forum, we focused the attention of the delegations on this blatant violation by the Russian side," Ihor Lossovskyi, Deputy Permanent Representative of Ukraine to International Organizations in Vienna, said in a commentary to Ukrinform.
According to the diplomat, the militants of the Russian armed formations systematically, mostly at night, observe the Armed Forces of Ukraine from these positions, using special surveillance equipment. In addition, they open provocative fire in order to trigger return fire and thus accuse the Ukrainian Armed Forces of failing to comply with its ceasefire commitments in the disengagement area.
"Russian occupational forces also build deep positions at the site bordering the disengagement area. In order to avoid SMM surveillance of the area, they jam the mission's drones, open fire in their direction, and lay mines. In addition, the road between Petrivske and Viktorivka was blocked to prevent the SMM patrols from using it," said the Deputy Head of Ukraine's Mission to the OSCE.
He reminded that the OSCE Special Monitoring Mission had not been able to access its camera in Petrivske district since May 4. The mission's mini-UAV has been fired from small arms twice, and once it was interrupted by a GPS signal while flying over this site of the disengagement area.
Lossovskyi pointed out that earlier the OSCE SMM had recorded earthworks and the arrangement of former positions of Russian armed formations in the disengagement area close to Petrivske.
Thus, inside the disengagement area, approximately 20m west of its eastern edge and 350m north of its southern edge, the UAV found a 10-meter extension of a wooden structure that covers part of the existing trench, as well as new panels on the roof of covered position for vehicles. In addition, the OSCE drone for the first time recorded a 3m extension of the existing trench in the western direction. All this, as the SMM stated, belongs to the Russian armed formations.
In addition, outside the disengagement area in Russian-controlled territory, about 200m northwest of its northeast corner, the UAV first discovered a wooden bunker, erected walls, and a roof frame. In addition, a pile of wooden logs was found lying nearby, near the position of the Russian armed formations. Nearby, outside the disengagement area, about 200m east of its eastern edge, the Mission's UAV found 40 anti-tank mines (probably TM-62) belonging to the Russian occupational forces.
ol