Zahorodniuk presents state awards to Ukrainian military
Ukrainian Defense Minister Andriy Zahorodniuk has presented state awards to the servicemen of the Ukrainian Armed Forces who showed courage and bravery in defending the independence and territorial integrity of Ukraine, according to a statement posted on the Defense Ministry's website.
"Congratulations to everyone present here who joined us to support. I want to say that the war is not over now. Our enemy, the Russian Federation, still does not change its plans to attack Ukraine as a successful European, self-sufficient, sovereign country. Your and our work is not over. Today, tens of thousands of military defending and maintaining peace give millions of people living in Ukraine an opportunity to live and sleep peacefully, to work, to raise children, and to care for their families. I thank you very much for that from the whole team of the Defense Ministry, from all who are with us now, from the Armed Forces, from civilians, military, from the whole people of Ukraine," Zahorodniuk said.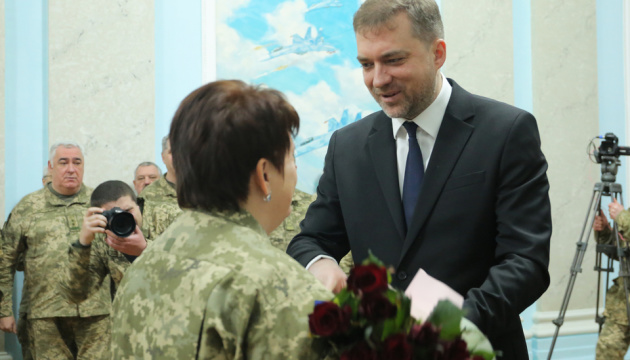 Congratulating the military personnel and employees, the defense minister stressed that restoring Ukraine's unity is a priority of the Armed Forces and the most important task.
"We will defend our independence. We will never recognize the occupation of the Crimean peninsula, the occupation of the Donbas or any other efforts to move us out of our way. Glory to Ukraine!" he said.
op