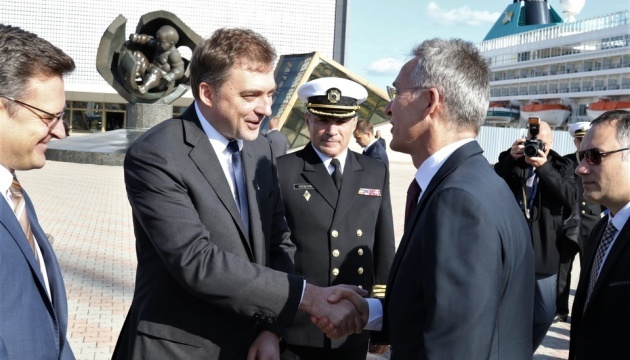 Ukrainian Defense Minister meets with NATO Secretary General in Odesa
As part of the visit of representatives of the North Atlantic Council to Ukraine, Defense Minister Andriy Zahorodniuk met with a delegation led by NATO Secretary General Jens Stoltenberg in Odesa on October 30, the Government portal reported.
The Ukrainian minister thanked foreign colleagues for their visit and continued support for Ukraine on its way to reforms towards the NATO standards.
"It is important for us to maintain a high level of cooperation and exchange of information with NATO for security in our country, as well as in the whole region," Zahorodniuk said.
The Defense Minister informed the foreign delegation about the current situation in eastern Ukraine and the measures taken by the leadership of the state and the Defense Ministry to ensure Ukraine's sovereignty and territorial integrity. During the meeting, he also spoke about the illegal occupation of Crimea.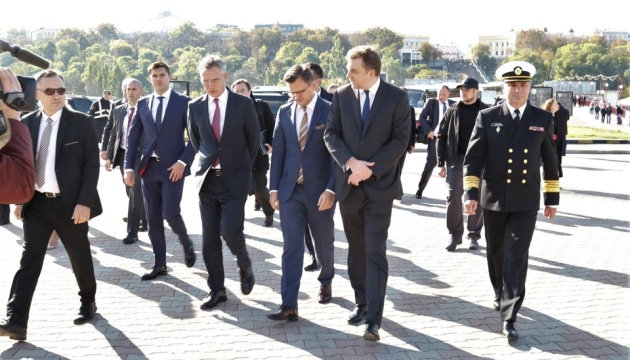 "We are doing everything we can to bring attention to this issue, as it is the first such security violation in this region since World War II. Before the occupation of Crimea by Russia, the Black Sea region was a zone of stability. However, we are now seeing a major violation of international maritime law in the Black Sea and its significant militarization. All this causes a number of problems for commercial shipping and access to certain areas," Zahorodniuk stressed.
The Ukrainian defense minister also stressed that Russia's actions in the Black Sea, militarization and escalation in international waters are not only a problem for Ukraine and the countries of the Black Sea region, but these may also raise problems for foreign states as well. Therefore, this issue should be implemented in the policies of the countries concerned, Zahorodniuk said.
iy