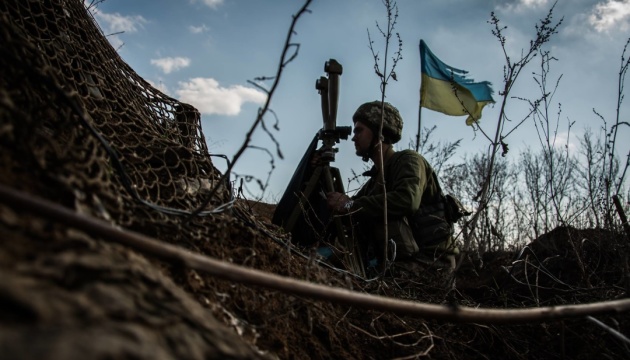 Khomchak says Ukrainian Armed Forces will return to positions in Donbas held in 2016
The planned disengagement of troops near the villages of Petrivske and Zolote in Donbas should be reciprocal and the parties to the conflict should pull their weapons one kilometer away from the contact line on each side, Chief of the General Staff and Commander-in-Chief of the Ukrainian Armed Forces Ruslan Khomchak has said.
"The new positions of the Ukrainian military will be where they were in 2016, when the troops were disengaged in the said area for the first time. The units of the Ukrainian Armed Forces will continue to control the situation in full," the Ukrainian Defense Ministry's press service quoted Khomchak as saying.
At the same time, Defense Minister Andriy Zahorodniuk reiterated that the withdrawal of troops could start only when the Russian occupation troops cease fire in the said areas and observe the truce for at least seven days. He also noted that after the completion of the disengagement, the tasks of controlling the demilitarized zone would be assigned to employees of the National Police of Ukraine.
According to Zahorodniuk, the Ukrainian military will pull back at a distance that would let them return immediately if Russian-led forces violate the agreements.
"All prerequisites have been created for this. A respective plan has been developed in case of such a situation," he said, adding that the disengagement positions are stipulated in the Minsk agreements and they were pinpointed on the map back in 2014.
On October 7, Zahorodniuk, Khomchak, Deputy Head of the National Police of Ukraine Vadym Troyan, the heads of the Luhansk and Donetsk regional state administrations, as well as representatives of the Ukrainian side of the Joint Center for Control and Coordination (JCCC), made a working visit to Stanytsia Luhanska.
The officials inspected the construction of a bridge near the village, studied the progress of the work on dismantling engineering facilities and talked with military and media representatives.
op