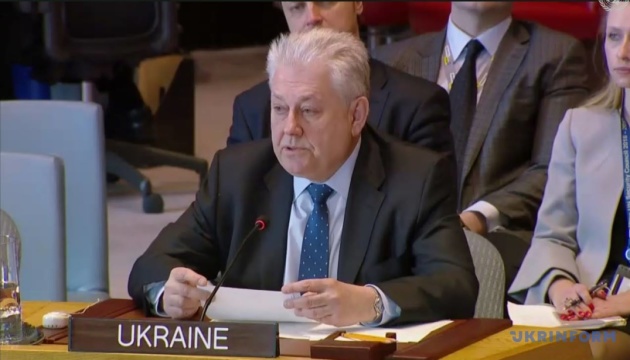 Yelchenko rebukes UN Secretary-General for ignoring Ukraine
Permanent Representative of Ukraine to the UN Volodymyr Yelchenko does not understand why Secretary-General Guterres completely ignores the crimes being committed by the Russian occupation forces in Donbas.
Yelchenko raised a corresponding question on Twitter page, an Ukrinform correspondent reports.
"How about saying a word about recent attack and killing of Ukrainian medical personnel by Russian terrorists in Donbas?" Yelchenko commented on a report of the UN News Centre informing that UN Secretary-General Antonio Guterres condemns airstrikes on Syrian hospitals.
As reported, on July 1, senior seaman Serhiy Mayboroda, the ambulance driver, and Sergeant Iryna Shevchenko, the military medic and holder of the Order For Courage, were killed in enemy shelling while performing a combat mission in the area of conduct of the Joint Forces Operation in eastern Ukraine. Militants fired antitank missile systems on an ambulance heading to the frontline to evacuate a wounded soldier.
ol