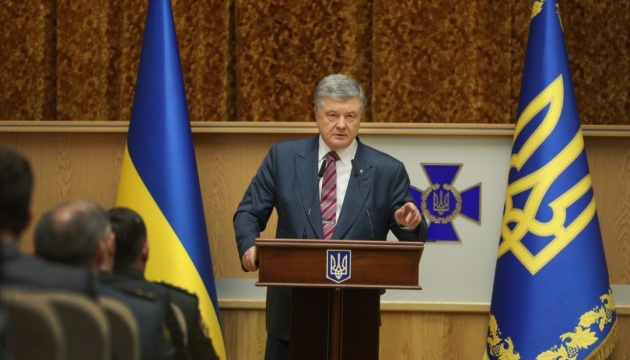 President: Army is pride of our country
The Armed Forces of Ukraine, which were created in an extremely short period of time, have become the pride of the country.
"To be certain of the changes in our country, one should go to the front. Our army is the pride of our country. It was created in an extremely short period of time. There are 50,000 women – snipers, intelligence officers, military doctors, experts in electronic warfare – among 250,000 members of the Armed Forces of Ukraine. It is also our achievement," President of Ukraine Petro Poroshenko said at a meeting with the students and professors of the National University of Bioresources and Natural Resources of Ukraine, an Ukrinform correspondent reports.
According to him, NATO generals did not believe in the possibility of creating a combat-capable army in Ukraine.
"In 2014, the soldiers were taken to combat zone by school buses. Nobody believed then that we would save our state and create the army. The four-star generals of NATO came and told me: "Mr. President, you simply do not know how it is done. The creation of one brigade requires five years. If you want to have 30 brigades, they will not be created in your lifetime, it's impossible." I replied: "Let's see." We involved the volunteer troops. We appointed the best commanders, who showed their worth in the first days of the war, and the army was created," Poroshenko said.
ol