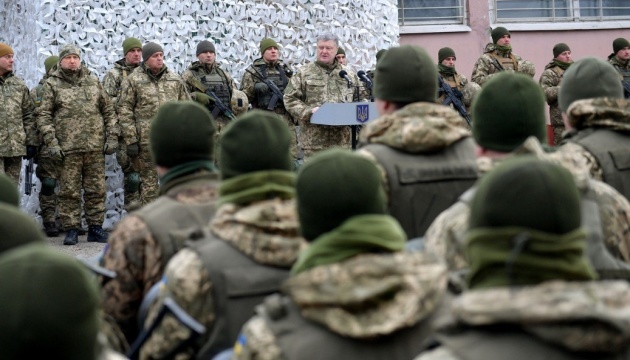 Ukraine strengthens air defense, increases defense capability during martial law – Poroshenko
President Petro Poroshenko has assured that during three weeks of martial law Ukraine managed to strengthen air defense and increase the forces and means of the Air Forces of Ukraine in dangerous directions.
He stated this during a meeting with military personnel, who perform tasks in the area of the JFO, during his working visit to Donetsk region, the press service of the head of state reported.
"After three weeks, we can sum up concrete practical preliminary results. Of course, I cannot talk about all of them, but I note that a lot of efforts have been made to strengthen the defense capabilities of our state. In particular, air defense has been increased. We have increased the forces and means of the Air Forces of Ukraine in threatened directions," the president said.
The Supreme Commander-in-Chief also emphasized that during this period the intensity of training of the command and control and troops was increased. Especially in the territories of ten regions bordering with the Russian Federation.
Poroshenko informed that the training of warriors, including those who joined the AFU from the reserve, was taking place.
The president also said that under the conditions of martial law, the brigades were replenished with the soldiers of the first stage of the reserve in the short term and now the troops are redirected to the most threatening areas.
As reported, on November 25, Russian border ships committed aggressive actions against Ukrainian vessels that set sail from the port of Odesa to the port of Mariupol. Russian special forces fired on and captured three Ukrainian vessels and 24 sailors in the Kerch Strait.
On November 26, the Verkhovna Rada of Ukraine adopted a law approving the decree of the President of Ukraine on the imposition of the martial law for 30 days in 10 regions of Ukraine in connection with the aggression of Russia.