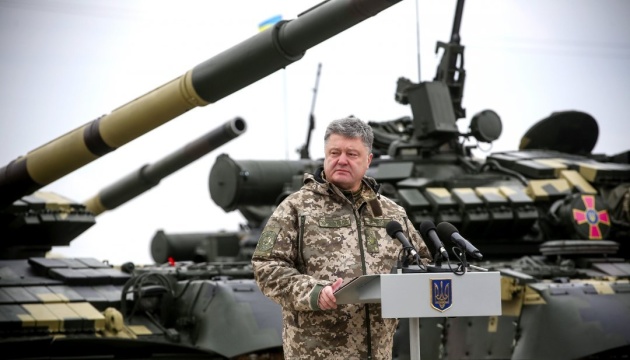 Russia moves over 1,000 tanks, artillery systems to border with Ukraine - Poroshenko
Russia has increased its army groups along the border with Ukraine, in the temporarily occupied territories of Donetsk and Luhansk regions and in annexed Crimea, Ukrainian President Petro Poroshenko has said.
He said this in his address to servicemen of the 72nd Mechanized Brigade performing their tasks in the area of the Joint Forces Operation, which was broadcast live on the Facebook page of the head of state.
"The army groups of the Russian Federation along the Ukrainian border, in the temporarily occupied territories of Donbas and Crimea consist of 28 battalion tactical groups, over 1,120 tanks, 2,600 armored vehicles, 1,230 artillery systems and 442 multiple-launch rocket systems, and six operational tactical missile systems," Poroshenko said.
According to him, space intelligence data show the placement of Russian tanks at a distance of 18 kilometers from the Ukrainian border. The president said that in one sector the number of tanks had almost tripled since mid-September - from 92 to 250.
In this context, the head of state said that the decision to introduce martial law in a number of regions in Ukraine had been made not only because of a Russian attack on Ukrainian sailors in the Kerch Strait, but also due to the fact that Russia has considerably strengthened its groups along the border and in the occupied territories since August.
On November 25, Russian border ships committed aggressive actions against Ukrainian naval vessels that were en route from the port of Odesa to the port of Mariupol. They fired on and seized three Ukrainian ships with 24 sailors on board in the Kerch Strait.
On November 26, the Verkhovna Rada of Ukraine adopted the law approving a presidential decree on the introduction of martial law for 30 days in ten regions of the country due to Russia aggression.