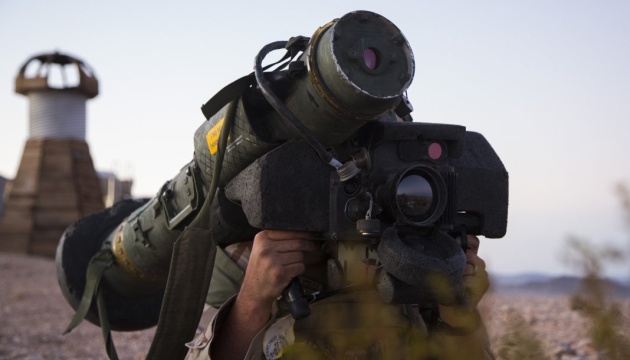 President vows to arm paratroopers with Javelins next year
About 150 units of the latest weapons and equipment have been handed over to Ukrainian paratroopers in recent years, and next year they will be equipped with new armored personnel carriers and anti-tank missile systems, including Javelins.
Ukrainian President Petro Poroshenko said this at a meeting with the Ukrainian Air Assault Forces in Zhytomyr on Wednesday, an Ukrinform correspondent reports.
"Paratrooper soldiers are gradually getting new and upgraded weapons, military hardware and modern communications equipment that can carry out combat tasks of any complexity. In recent years about 150 samples of modern armaments and military equipment have been handed over to the Air Assault Forces. These are our glorious BTR-3DAs, Stuhna and Corsar anti-tank missile systems. In addition, landing units have been equipped with the latest communications means, including those produced abroad," Poroshenko said.
He added that about 40 Hummer armored medical vehicles had been received as part of logistical assistance from Ukraine's foreign partners.
The Day of the Ukrainian Air Assault Forces is celebrated in Ukraine on November 21, in accordance with a presidential decree of November 21, 2017. The holiday replaced the Day of the Ukrainian Airmobile Forces.