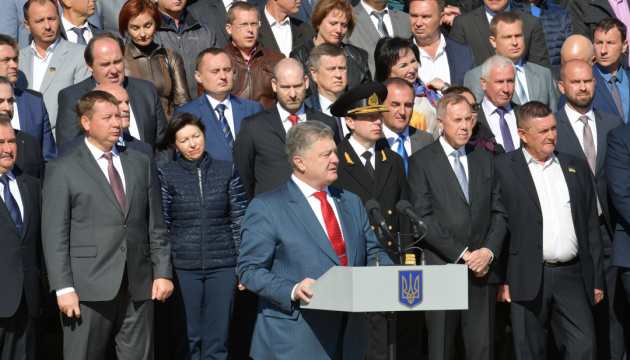 President: Defender of Ukraine Day not a gender-specific holiday
President of Ukraine Petro Poroshenko stressed that Defender of Ukraine Day is not a gender-specific holiday and congratulated the men and women who defend Ukraine.
"It's not a gender-specific holiday, just for boys. 55,000 women now serve in the Armed Forces of Ukraine. Their number should even increase. The day before yesterday, the law on ensuring the equal rights and opportunities during military service was signed. We cancel unreasonable restrictions on the service of women in the military reserve and their participation in the reserve training. We consolidate the principle that women receive access to positions and military ranks equal to that of men," President Poroshenko said during the participation in the ceremony of taking oath by students of the Ivan Bohun Military Lyceum in Kyiv on October 14.
Poroshenko recalled that he had signed the decree to award a rank of general to Head of the Military Medical Department of the Security Service of Ukraine Liudmyla Shuhaley, who thus became the first female general in Ukraine.
ol