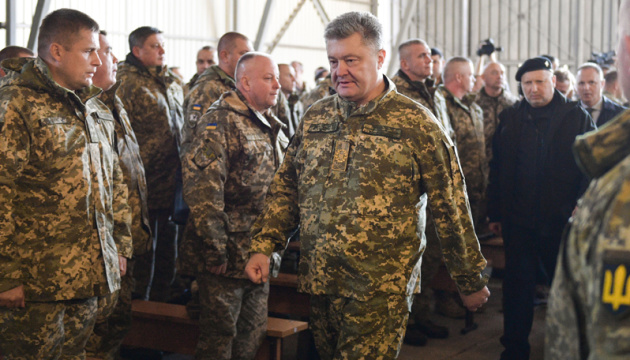 Poroshenko: Ukrainian troops ready to repel Russian aggression on Sea of Azov. Video
President of Ukraine Petro Poroshenko has assured that Ukrainian troops are ready to fight back in case of Russian aggression on the Sea of Azov.
"I inspected the complex tactical exercises on defense of the sea coast. Our troops are ready to repel Russian aggression from the seaward on Azov," the President posted on Facebook.
He stressed that the commanders could effectively plan and manage all-arms and cross-branch groups of forces in combat operations on land, at sea and in the air.
As reported, Russia has been blocking ships heading towards the ports of Berdiansk and Mariupol over the past months. Ukrainian Infrastructure Minister Volodymyr Omelyan stated that Ukraine was negotiating with the EU countries and the United States on imposition of sanctions on Russia in response to the blockade of the Sea of ​​Azov.
The U.S. Department of State called Russia's actions in the Sea of ​​Azov an attempt to destabilize Ukraine.
ol