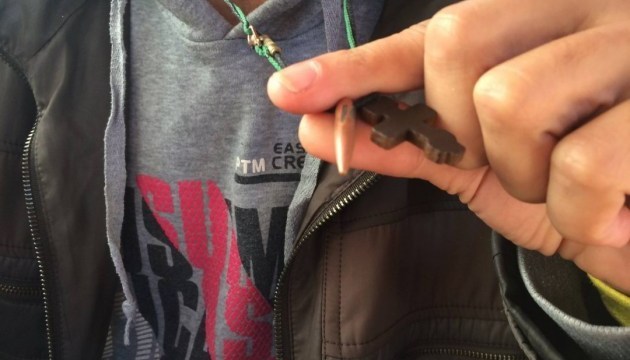 Bullet in the head: Story of a veteran, who has narrowly escaped death
August 29 is the commemoration day of Ilovaisk battle in Ukraine. Four years ago fights for this strategic town in eastern Ukraine became the deadliest chapter of the country's war with Russia.
37-year-old Oleksandr Kovalchuk from Lutsk, western Ukraine, came to Mykhailivska Square in Kyiv to meet with his friends and recall the events taken place four years ago. The weather is unusual for August: thick grey clouds are covering the sky over the capital. The Mykhailivsky monastery's golden domes are shining bright against their background. Its bells ring - dang! - and a high note is flying over the square already full of voices of chatter and patriotic music. Few hundred people gathered near the Memorial wall - the monastery's wall is covered with portraits of soldiers who died in four-year-old Russian-Ukrainian war in the east of the country. It already stretches for more than a hundred meters and keeps growing.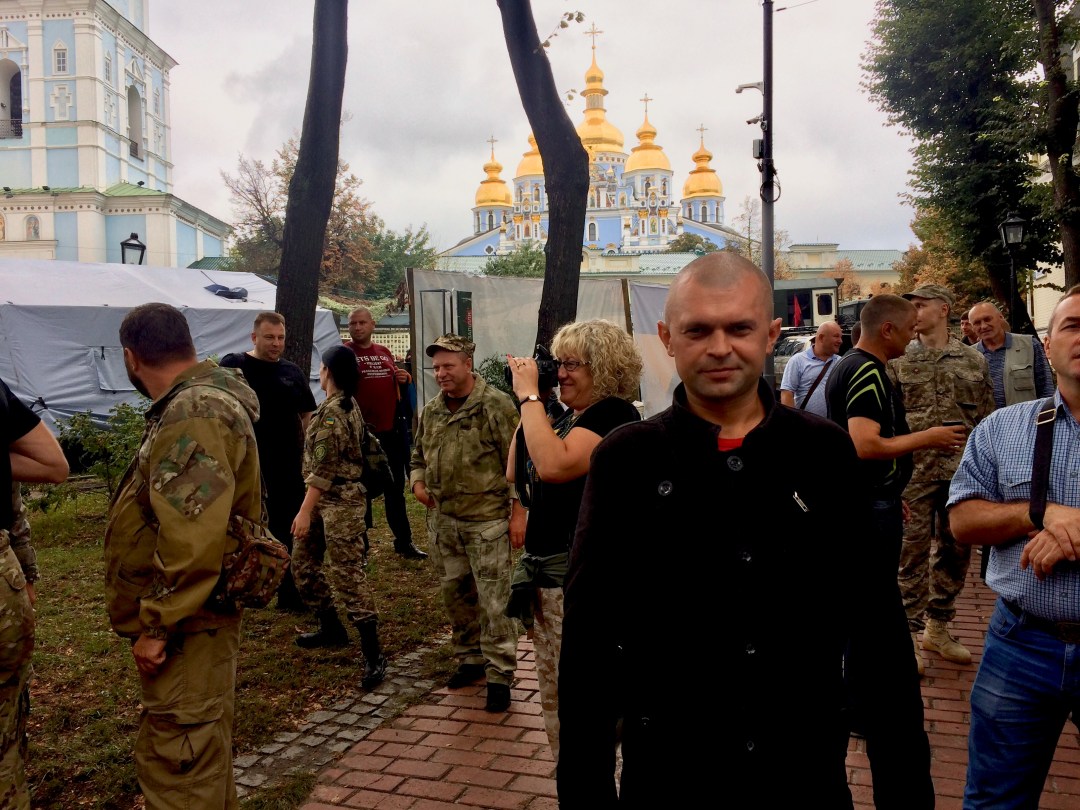 Ex-fighter of "Myrotvorets" volunteer battalion Oleksandr Kovalchuk at the Mykhailivska Square in Kyiv, 29 August 2018
Oleksandr squints and watches people, who gather in small groups near the wall and chat. The seniors, families with children, relatives of the killed holding their portraits, veterans in uniforms of all shades of green. They are volunteer fighters who fought in Ilovaisk and were lucky enough to survive when escaping the encircled town through the so-called "Corridor of Death" on 29 August 2014. It happened this day four years ago. Their brother in arms killed in action look at them from the wall. People keep approaching the wall, eyeing the faces, some of them cry. Many hold sunflowers in their hands - a symbol to commemorate the Ilovaisk tragedy.
"Back than we had to leave at 4 a.m. Well, we left a bit later, around five or six o'clock in the morning. I remember stopping in a village. We had to wait for about an hour. It was being decided whether we break out with fight or without it. We were finally told we would break out with fight," Oleksandr recalls that morning.
… This day exactly four years ago, fighter of Ukrainian "Myrotvorets" ("Peacekeeper") volunteer battalion Oleksandr Kovalchuk was one of almost 1,5oo Ukrainian troops who were escaping the town of Ilovaisk, at that moment already fully encircled by Russian military. Their column of vehicles stretched for few kilometers down the rural road in Mnohopillya, suburb of Ilovaisk.
… The author of this article happened to be almost near Oleksandr that morning of August 29, in the same column. Rows of small grey clouds, which looked as if they were dirty, were flying very low by the August sky. Or seems as if they could accidentally touch roofs of those abandoned private houses around or a tent of a military truck. Somewhere near, behind the forest, ammunition was being blown up: Ukrainian military were destroying their own ammo so that it wouldn't fall into the enemy's hands. The whole grouping was leaving Ilovaisk, a strategic town in eastern Ukraine that they had so heavily fought for in the last three weeks. It was during those bloody combats that Russian regular troops had crossed the border with Ukraine and took the town into a firm encirclement. For the last 6 days, almost no one entered or left the town. Even the wounded Ukrainian troops couldn't be driven away. They had to slowly die at the floor of the gym at the abandoned Ilovaisk's school #14 that had been turned into the Ukrainian forces headquarters. Drugs had been first to run out. Than - food. Water had still been accessible for some time from a well which could be reached by quickly running through streets, all of them easily shot through by enemy fire. At some point, the water in it had become muddy. It had been disinfected by special tablets. It was salty and disgusting, but still drinkable. In the last day, Ukrainian forces had run out of water too.
A day before the "Corridor of Death", Russian commandment promised to provide Ukrainian military with a "green corridor" in exchange for Russian paratroopers that had been caught in combats and now held prisoner of war by Ukrainian forces. They warned Russians: "Your soldiers will be placed in different buses between Ukrainian troops, so if you shoot - you're gonna shoot at your soldiers too." However, it hadn't stopped the Russian commandment from violating agreements. It was already that early morning when Ukrainian troops formed at the exit of the town, that the Russians added one more condition: Ukrainians may leave only if they abandon all weapons. This was hardly acceptable, as it would mean voluntarily turning prisoners of war. That was when breaking out with fight through three circles of enemy's positions began.
Oleksandr 'Volyn' Kovalchuk from Lutsk, western Ukraine, was driving one of the vehicles. They speeded out into the field and saw a terrifying view. All the vast eastern Ukrainian steppe around was exploding - as far as one's eye could reach - everywhere fountains of earth were lifting up being hit by "Grad" missiles. Rockets, grenades, fragments, bullets flew between numerous vehicles of the column which were chaotically making their way through the dust of the steppe. Pieces of metal were cutting through the heated August air with various whistling, and each one of those petrifying sounds could be the last one for each soldier.
"I remember how some of the soldiers were jumping into our car, as their cars had broken down. We all saved ourselves the best we could," Oleksandr recalls.
Out of hundreds of thousands of bullets carving the air that day there was one Oleksandr didn't hear. A bullet which is yours is the one you wouldn't hear. It hit his head and got stuck in the skull. He lost his consciousness and was lying under a fence of a private house in Horbatenko, a village not far away from Ilovaysk. He was bleeding heavily.
At that same time his wife Myroslava was in Lutsk and had no idea were Oleksandr was. He never told her he was fighting in the east. She was pregnant with his son. Oleksandr's 7year-old daughter was by her side. Only few days later she would receive a horrifying call from an unknown number. "Oleksandr is wounded and is treated in a hospital in Donetsk," they said.
"I only partially remember my way from Horbatenko to Donetsk. Somewhere in Starobesheve they changed my clothes. We drove to Donetsk in a first rescue car. They brought me to hospital. I only partially remember being prepared for the surgery," Kovalchuk tells me.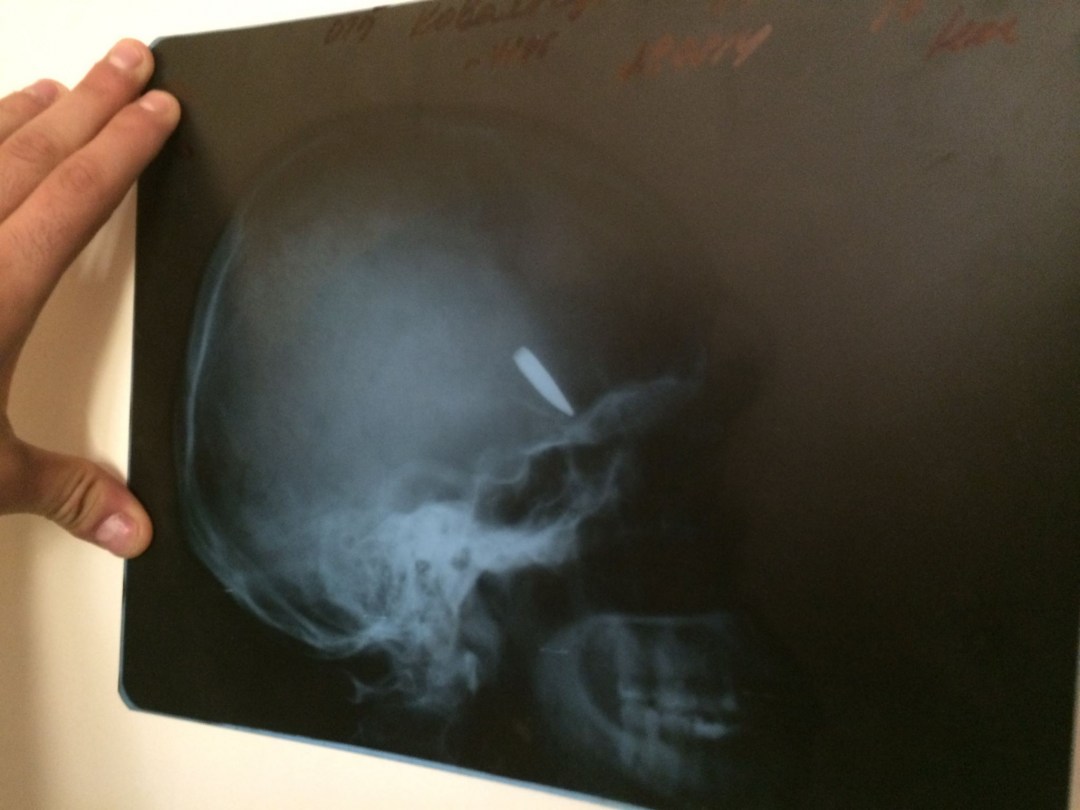 Oleksandr Kovalchuk, already in hospital in Kyiv, shows a radiograph of his skull he took away from hospital in Donetsk.
A loud music interrupts our talk with Oleksandr. A typical, but still sentimental patriotic song sounds from a small scene at the square. One of the lines sound "I gave away all that I had for our freedom…" I almost can't hear Oleksandr's words - the music is very loud - but we keep on talking about those scary days four years ago.
It is still unclear, who took Oleksandr - bleeding, with a bullet in his skull - to hospital in the occupied Donetsk. He underwent a surgery there, and the piece of metal was extracted from his skull.
The doctor who treated Oleksandr knew he was a Ukrainian soldier, but never disclosed him. Would anyone know - Oleksandr would have been immediately arrested by Russians who controlled Donetsk. The official medical paper explains simply that Oleksandr "drove a car" when he was wounded.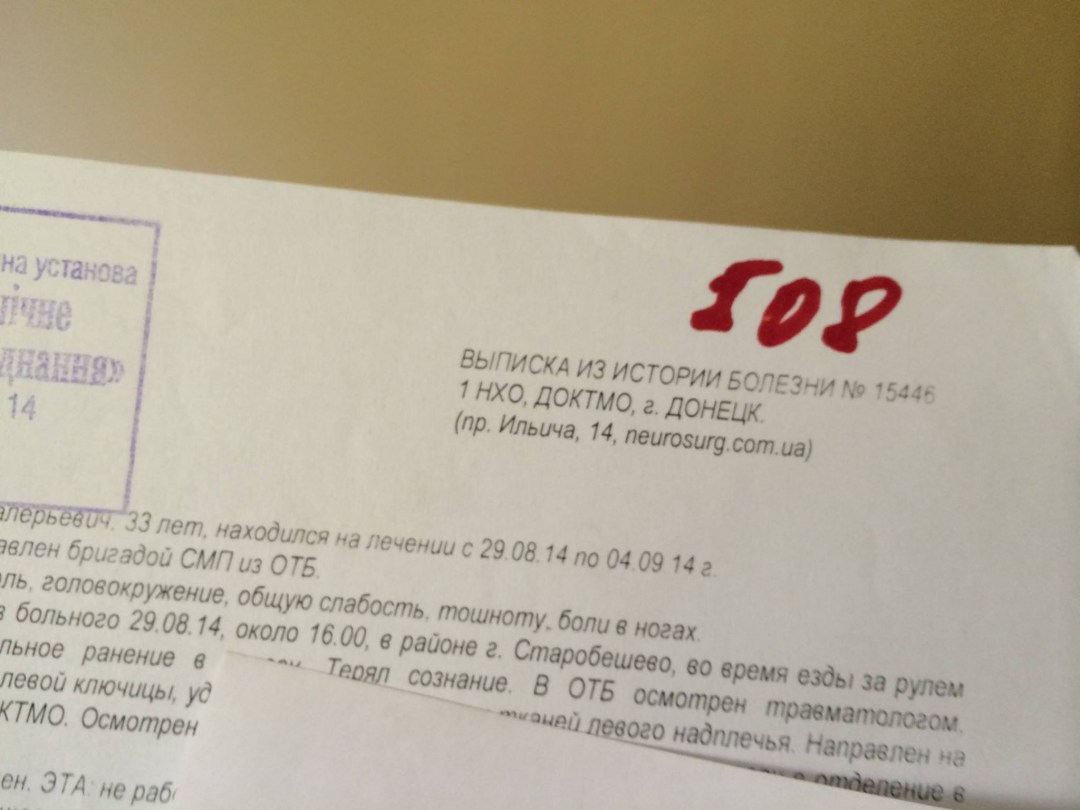 Official medical document that Oleksandr managed to take away with him from hospital in Donetsk.
"He did not disclose details, - Oleksandr regrets. - He said he was originally from Dnipro and somehow got to Donetsk. I than lost contact to him. But he warned me to never call him back. All those calls are being intercepted, you know. I only called him once after, when our mothers were searching for dead. I called him to ask the number of a morgue. And I have never talked to him since, unfortunately. I would really like to know what where he is, if he is fine now. I thank God he didn't break his doctor's oath when he saw me.
When Oleksandr came round after the surgery, he realized where he was. It was occupied Donetsk and his enemies were being treated around him in the hospital.
"I remember walking out of hospital and looking at those… bad people. One of them approached me: 'Hey, are you an opolchenets?" [Russians and separatists call each other this way] Well, I just bowed my head. Actually, I couldn't yet normally talk. I only drank tea and ate soup. I could eat neither cereals nor bread. I couldn't even stick my little finger between my teeth.
There were also Russians among the patients of the hospital. Oleksandr realized it from seeing their uniform.
"I remember once looking out of my room's window and seeing them walking around the backyard. They wore unusual cammo, the one I never saw. I later learned from news these were Russians. It was their summer uniform, which has a kind of a net in it. Dark-green with a hoodie. There were also their typical "pixels" [Russian "digital" camouflage].
Oleksandr remembers talking to a patient.
"There was an old man, well, 55-60 years old. He had a splint, wound in a jaw, bandaged arm. Once I went out to smoke in the evening, and he stood there with a young guy, who showed him some photos at his cellphone and showed-off. That old man was telling me something for a long time. Than shelling began near Donetsk. He shouted "Let's go!". Well, they got scared. I also ran behind them to hide. When later I was coming out of the hospital with all my documents to meet volunteers, that old man also was there. He gazed at me with such a scary view in his eyes. It seemed as if he had realized, who I was. I still remember his face.
It wasn't easy for Oleksandr to escape the occupied Donetsk. Would anyone know he was a Ukrainian soldier, he would have been immediately arrested.
"The doctor called me on September 1, when I was in my room. Someone gave him my number, or he found it somehow. He told me that in four days I will be transferred somewhere or someone would drive me out. He was scared himself and needed some time to prepare my escape. To pretend I was a local. We decided to escape step by step. With help of locals, than get somehow through checkpoints, and than somewhere on the road to be transferred to our military. He also warned me against speaking Ukrainian while I was there. .. Locals helped me leave the hospital. It was on September 4. I stayed overnight at their place. In the morning of September 5, I moved further. The same evening I was already in Ukraine-controlled Dnipro.
I ask Oleksandr whether he feels a hero. "No, I don't. I went there not for fame. I just went there as a citizen who had given his oath to defend Ukraine. My grandfather fought in the World War II. He was born in eastern Ukraine. His parents are buried there," he says.
We have to interrupt our talk again. A friend, who just arrived at the square, approaches Oleksandr. They shake hands firmly, hug and pat each other on the back - a typical greeting of Ukrainian veterans.
Before the war, Oleksandr had worked for ten years as a duty officer in a local police headquarters in Lutsk, western Ukraine. He still remembers how corrupt and unjust was the system and how he had to quit his job in 2012. Oleksandr took part in the Revolution of Dignity. He went to work abroad, including to Russia. Last time he was in Russia in spring 2014. Since coming back from the frontline he again works at low-paid temporary jobs. His wife Myroslava is currently earning a living by doing some seasonal work in Poland. When asked why he still loves Ukraine despite all mistreatment and hardships he sees around him, why he decided to take arms and defend his country, a former police duty officer answers: "Giving up is not a choice. It would only be worse."
Oleksandr again squints, watching an exhibition of photos from Ilovaisk that had been organised at the square. He is watching people at the square, some of his brother in arms from "Myrotvorets" and other units.
Was he lucky? Wrong word probably for what he lived through. How many more here have experienced the same? Dozens? Hundreds?
Many more did not survived that day. 366 soldiers were killed in Ilovaisk, official investigation tells. 158 went missing in action, the fate of 84 of them is still unknown. Eleven are still held prisoners of war in the occupied territory.
Mother of one of the fallen soldiers, Viktor Hurniak, takes floor at the scene. She holds her son's portrait in her hands and reads out lines from his diary that he had written just few days before he was killed in action. "It is enough to make me cry - that much I want to believe that we will remember all those who gave up their lives for us".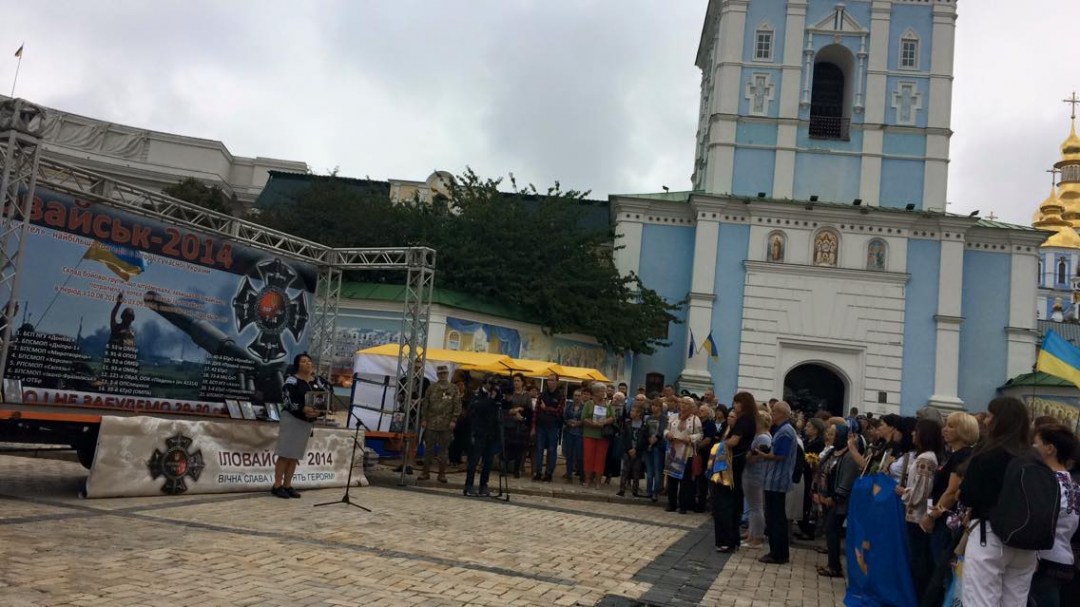 Mother of Viktor Hurniak, a Ukrainian soldier who died at the frontline in October 2014.
Concluding her speech, she addresses Ukraine's leadership: "I beg you, August 29 should be the all-Ukrainian day of the Russian-Ukrainian war". The veterans of Ilovaisk and relatives of the fallen have been calling on the authorities for several year to proclaim August 29 an official commemoration day for the fallen in war.
"I want you all to believe that Ukraine will survive! It will be powerful and mighty. I want you to never give up. Russian-Ukrainian war has not broken us. It has united and keeps uniting us," she adds.
Veterans are talking to each other in small groups about the past and present. I hear accidentally some words of pity for the fact that nobody from Ukrainian military command has been punished for what happened in Ilovaisk. Some others persuade that it is not right to take away guilt from Russia, which actually encircled the town of Ilovaisk, and only accuse Ukraine's commandment of making mistakes.
People keep coming to the Memory wall and lay sunflowers. Another patriotic song is playing at the scene, and through people's chatter I can hear a line "This wound will always bleed…"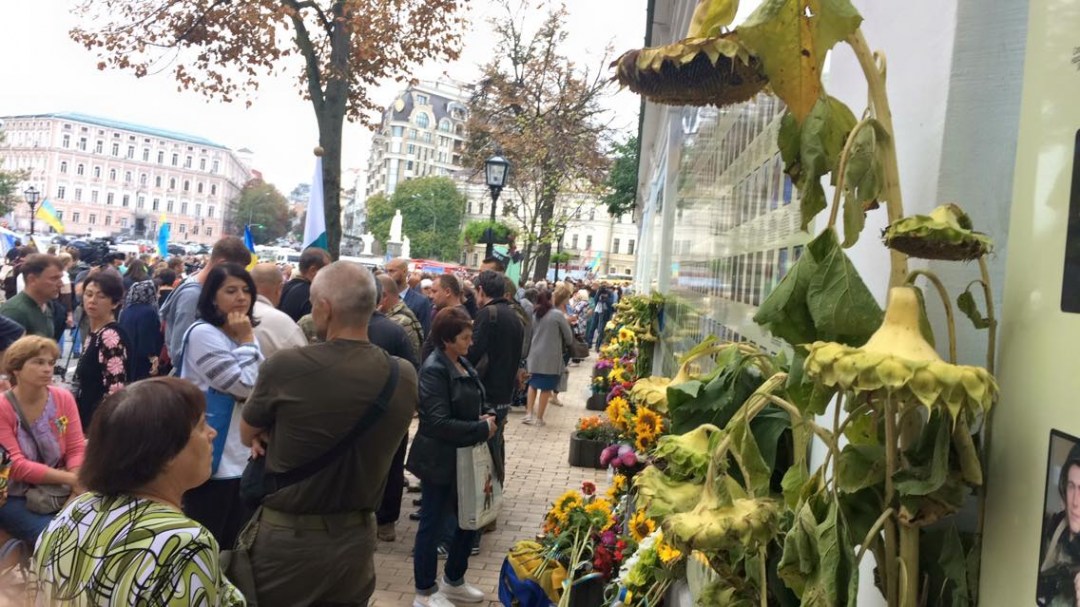 Sunflowers near the Memory wall at the Mykhailivska Square in Kyiv.
… And Oleksandr still wears on his neck the bullet that the surgeon in Donetsk extracted from his skull as a reminder of that horrifying days four years ago.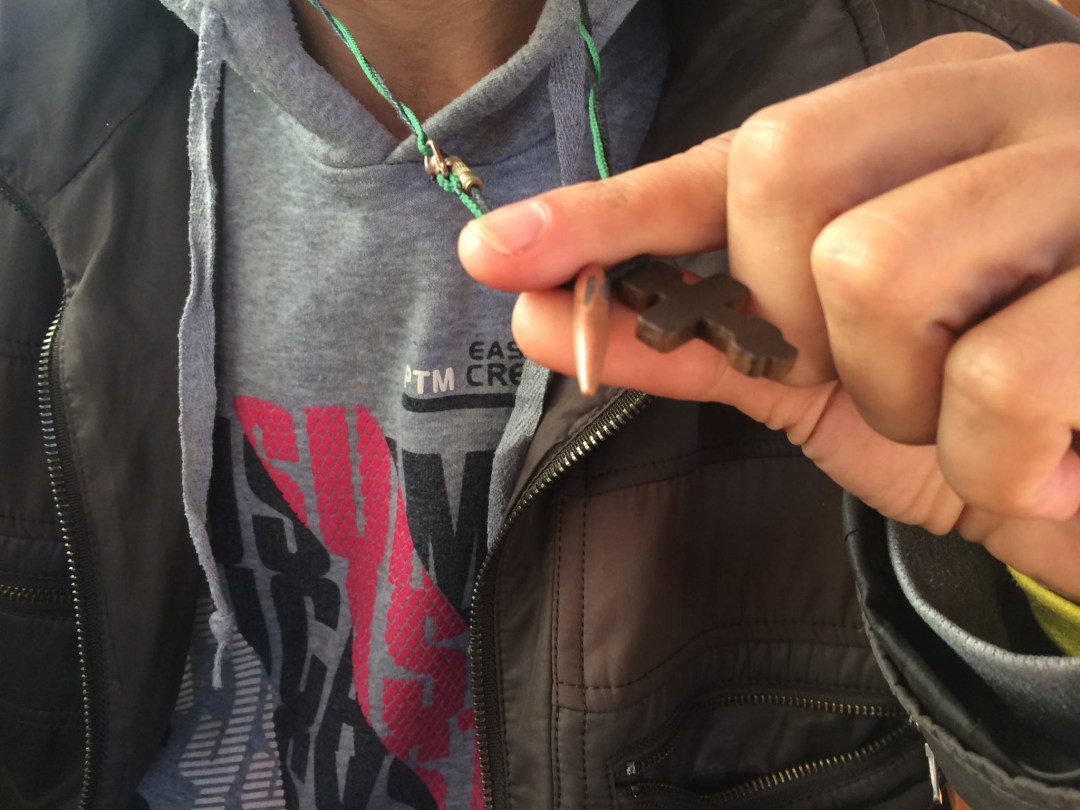 While already on treatment in Kyiv hospital in autumn 2014, Oleksandr shows the bullet which had been extracted from his skull in Donetsk
Heorhii Tykhyi, Kyiv