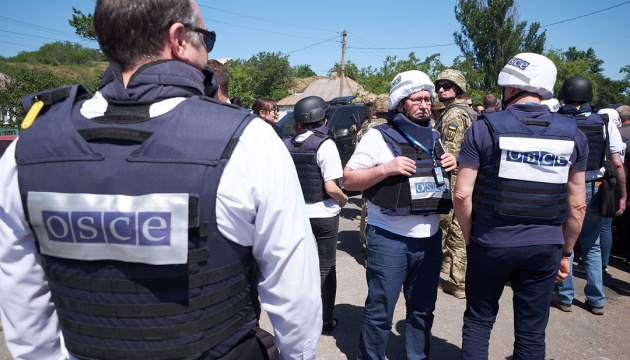 JCCC: Russia tests state-of-the-art electronic warfare systems in Donbas
Monitors of the OSCE Special Monitoring Mission to Ukraine have detected dozens of tanks and artillery systems deployed outside areas for weaponry withdrawal as well as air defense and electronic warfare systems in the temporarily occupied territories of Donetsk and Luhansk regions.
"The logical continuation of the announced facts of convoys of trucks and other equipment entering the occupied territory from the territory of the Russian Federation are new reports by international monitors on deployment of heavy weapons near the contact line by Russian armed forces," the Ukrainian side of the Joint Center for Control and Coordination (JCCC) reports.
As the JCCC recalled, on August 9, the OSCE SMM aerial imagery revealed the presence of up to 30 tanks of the Russian armed forces near Buhaivka (37km south-west of Luhansk), Lobacheve (18km north-west of Luhansk) and in Luhansk city. In addition, 26 pieces of towed artillery, a multiple launch rocket system and four surface-to-air missile systems were detected.
Moreover, an SMM mini-UAV spotted four distinct electronic warfare systems: a Leer-3 RB-341V, a 1L269 Krasukha-2 and RB-109A Bylina, and an anti-UAV system, Repellent-1. All these systems were created in the Russian Federation in recent years, and RB-109A Bylina was expected to be used by the Russian army only following the military tests this year.
"As we see, these tests are conducted on the territory of Ukraine," the JCCC notes.
ol