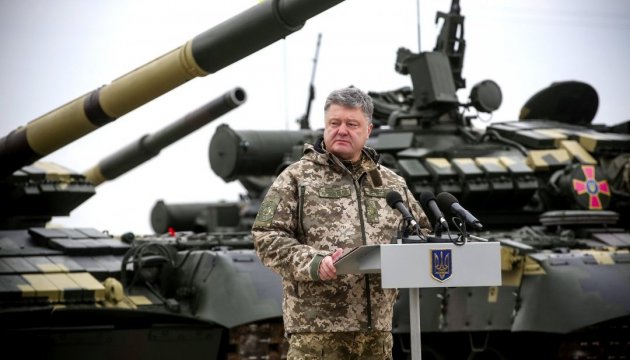 President demands probe into embezzlement of funds at Defense Ministry
The investigation into the embezzlement of state funds by Ukrainian Defense Ministry officials should be conducted in the shortest possible time, President Petro Poroshenko has said.
He told this to journalists at the Defense Ministry on Thursday, while commenting on corrupt actions by a deputy defense minister and other ministry officials.
"I emphasize that the investigation should be carried out as soon as possible, presented to the public and handed over to court. Any delay, when cases are considered for three to four years, is completely unacceptable. This destroys the logic of combating corruption," Poroshenko said.
He expressed hope that in the shortest possible time the society would get "complete information about what happened and how it happened."
"[Deputy Defense Minister Ihor] Pavlovsky headed the M sector, when it was very difficult in Mariupol. He took an active part in the anti-terrorist operation, and absolutely clearly we must conduct a transparent and effective investigation today. If he is guilty, he must be brought to liability, if not, he should be acquitted," Poroshenko said.
As reported, the National Anti-Corruption Bureau and the Specialized Anti-Corruption Prosecutor's Office exposed a corruption scheme on the loss of over UAH 149 million in state funds during the purchase of fuel for the Ukrainian Defense Ministry. Deputy Defense Minister Pavlovsky and Director of the Department for Procurement and Supply of Material Resources of the Defense Ministry Volodymyr Hulevych were detained.
Subsequently, NABU handed a notice of suspicion in embezzling public funds to two more Defense Ministry officials. One of them is an employee of a unit at the Department of State Procurement and Supply of Material Resources and another is an employee of the Department of Internal Audit at the Defense Ministry.
They were declared suspects under Part 5, Article 191 (appropriation, embezzlement or seizure of property through abuse of office) of the Criminal Code of Ukraine.
The issue of choosing a measure of restraint for the detainees is currently being resolved.
The prosecutors demand arrest or UAH 75 million bail for the deputy minister and arrest or UAH 8 million bail for the director of the department of public procurement.
op