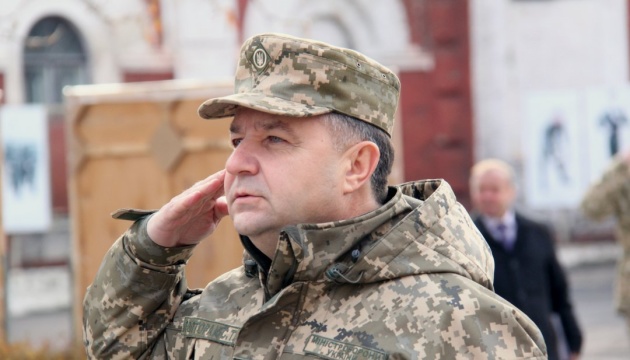 Defense minister notes importance of friends in fight against Russian aggression
It is very important for Ukraine now to have friends who provide support in opposing Russian aggression, Ukrainian Defense Minister Stepan Poltorak has said.
He stated this at a briefing in Lublin on Thursday, an Ukrinform correspondent reports.
"It is very important for Ukraine today to have friends who support us in the struggle for independence, in the fight against Russian aggression. Today we have inspectors from Poland, Lithuania, the United States and other countries that help us, and we want to thank them for this," Poltorak said.
He also thanked his Polish and Lithuanian colleagues, Antoni Macierewicz and Raimundas Karoblis, for attending an Independence Day parade in Kyiv on August 24.
"You showed the whole world that Ukraine did not remain one on one with Russia, that all of Europe, the whole world supports us," Poltorak said.
According to him, a "historic event" took place in Lublin today, as the Lithuanian-Polish-Ukrainian brigade (LitPolUkrBrig) received the last signs of a military formation - a battle flag.
"Today the brigade got the name of Prince Ostrogski, who is an important figure for Ukraine, Poland and Lithuania. Today this brigade received a military banner, which is a symbol of honor and dignity for every military man," the minister stated.
According to him, the historicity of this event lies in the fact that the brigade was created not for the sake of aggression, but for the sake of peace.
"The main goal of this unit is to preserve peace," Poltorak said.
op