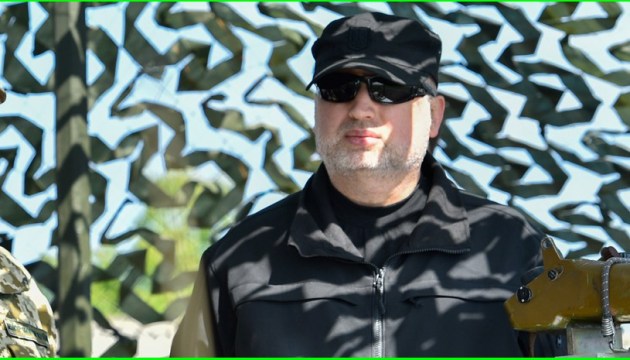 Amount of Russian weapons growing in east Ukraine every day - NSDC
The amount of weapons and ammunition supplied from Russia to the territory of Donetsk and Luhansk regions not under Ukraine's control is growing every day, Secretary of the National Security and Defense Council Oleksandr Turchynov has said.
He stated this at a meeting with a Canadian parliament delegation led by Chairman of the Standing Committee on National Defense Stephen Fuhr, the council's press service reports.
"We understand why [Russian President Vladimir] Putin is against an armed UN mission that would control the border with Russia, because only the closing of the border can stop supplies of military weapons and ammunition from Russia to the occupied territory," Turchynov said.
He also said that Russia would continue the war until control over the border is established.
Turchynov said that the Kremlin demonstrated its readiness for an offensive war during the Russian-Belarusian exercises Zapad 2017.
"The last stage of the exercises was devoted to testing the combat readiness of a nuclear triad. Air, land and sea components were worked out. Thus Putin demonstrates his readiness for waging a powerful continental war," he said.
According to the report, the meeting participants discussed the situation in eastern Ukraine, the build-up of Russia's military potential in Crimea, and its dominance in the Black Sea basin.
In addition, the sides discussed the reform of the Ukrainian security and defense sector and cooperation between the two countries in the military and technical sphere.
In this context, Turchynov noted that Ukraine was considering Canada not only as a strategic partner, but also as a friend.
Fuhr, in turn, said that Canada "is always ready to help Ukraine in every possible way."
op