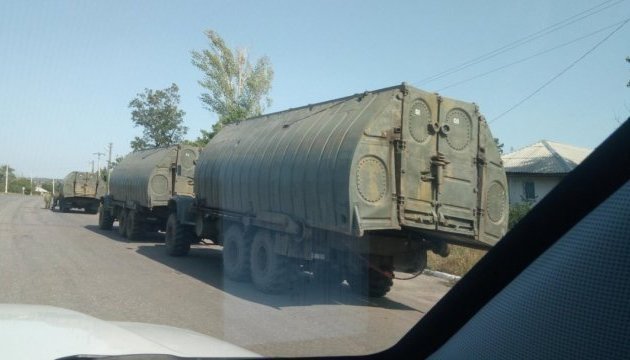 OSCE spots three columns of militant equipment near Luhansk (Photo)
The OSCE Special Monitoring Mission (OSCE SMM) has spotted three columns of militant equipment on the H-21 road near the village of Heorhiyivka in Luhansk region controlled by the so-called "LPR."
"SMM saw 3 convoys of amphibious-crossing equipment & vehicles travelling north on road H-21 near 'LPR'-cntrl Heorhiyivka," the OSCE SMM reported on its Twitter page on Friday.
12/09: СММ бачила 3 колони переправочно-десантних засобів і техніки на автошл. H21 поблизу підконтр. «ЛНР» Георгіївки #ФактиМаютьЗначення pic.twitter.com/WjtOYudzcE

— OSCE SMM Ukraine (@OSCE_SMM) 15 сентября 2017 г.
According to the mission, the equipment was seen on September 12.
op