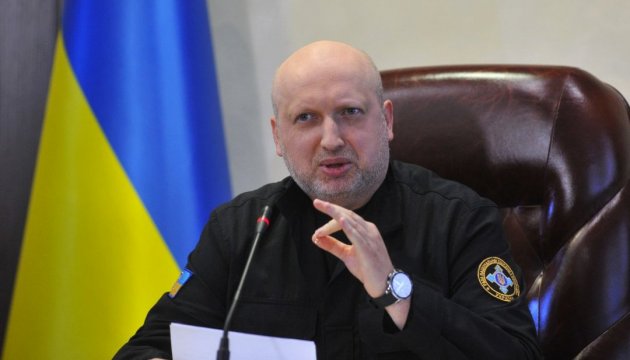 Donbas war for Putin a lever of pressure on Europe - Turchynov
The war in the Donbas for Russian President Vladimir Putin is a lever of pressure on Europe, Secretary of the National Security and Defense Council of Ukraine Oleksandr Turchynov has said.
He stated this at a meeting with President of the Ukrainian World Congress Eugen Czolij, the council's press service reports.
According to the report, the sides discussed the current situation in eastern Ukraine.
Turchynov stated that hostile shelling in the Donbas did not stop after another agreement on a ceasefire. This, he said, indicates that "Putin is not going to get out of the occupied territory, and the war in the Donbas for him is a lever of pressure on Europe and Ukraine."
The sides also discussed possible ways of solving the problem with the blocking of military-technical cooperation between Ukraine and partner countries, as well as the release of Ukrainian political prisoners who are illegally detained in Russia. The sides paid special attention to the issue of assistance from UWC in informing Ukraine's partner states of information reports and refuting fake information about Ukraine, which is spread by Russian propaganda, the message says.
Czolij, in turn, said that a priority for UWC is to make sure that "the international community helps overcome the hybrid aggression against Ukraine."
"For our part, we will do everything to ensure that the law signed by the U.S. president on military and technical assistance to Ukraine does not remain only on paper, but becomes a reality," he said.
In addition, the sides stated that sanctions against the aggressor country should "not only continue but also be strengthened."
"Ukrainians all over the world should feel like one family and work together for a common victory," Turchynov said.
op