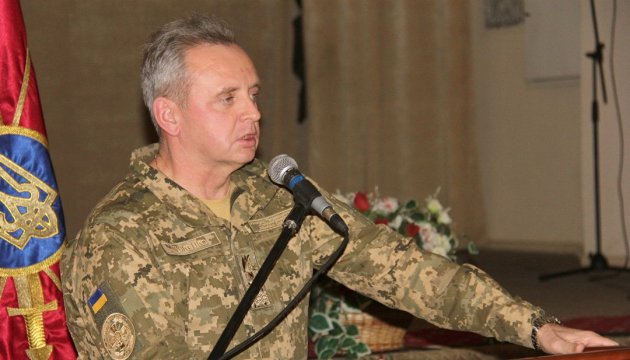 Muzhenko: 2,307 soldiers killed in Donbas war
A total of 2,307 Ukrainian servicemen have been killed and 8,185 have been wounded over the three years of the war in Donbas, Chief of the General Staff of the Ukrainian Armed Forces, Commander-in-Chief of the Armed Forces, Army General Viktor Muzhenko has told LIGA.net.
"The war is always destroying people. It has such a nature. Over the three years of the war, we have 2,307 irretrievable losses and 8,185 those wounded [as of July 27]. These are purely combat losses. Non-combat losses total 871 people," Muzhenko said.
He noted that non-combat losses included deaths from illnesses, violations of safety measures such as weapons handling, as well as deaths in road accidents and suicides.
"Statements that non-combat losses exceed combat ones are untrue. Quite the contrary, they have decreased by many times compared to 2015-2016. This is a means of manipulating public opinion on the part of irresponsible officials, and sometimes just provocateurs that are not responsible for their statements," he said.
At the same time, according to Muzhenko, the number of those wounded and killed among Ukrainian troops has decreased, especially compared with 2016. "However, we have recently had a situation when we lost nine soldiers in two days. Even one loss is a tragedy, and not only for the family, not only for the comrades, but for the entire Ukrainian people," he said.
op