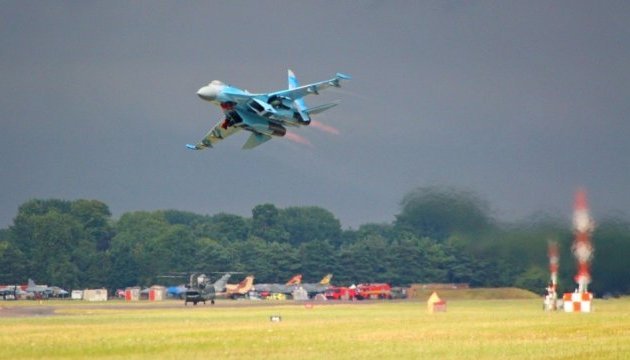 Ukrainian military pilots win prize for best aerobatics at air show in Britain. Photos
Ukrainian military pilots have won the prize for the best aerobatics at The Royal International Air Tattoo 2017 show.
This is reported by the press service of the Defence Ministry of Ukraine.
"The military pilots of the 831 Myrhorod Tactical Aviation Brigade became winners in the nomination 'Best Aerobatics among NATO partner countries' at The Royal International Air Tattoo 2017 air show, held in the UK on July 14-16," the statement reads.
Ukraine was represented by two Su-27 fighter aircrafts (in static and flying displays) and IL-76 military aircraft of the Ukrainian Air Force.
This year, Ukrainian pilots increased the number of aerobatics figures and added new elements that were performed at low and extremely low altitudes. In general, the program was designed to show the capabilities of a fighter aircraft, its maneuverability and professional level of a military pilot without going beyond visual range.
ol