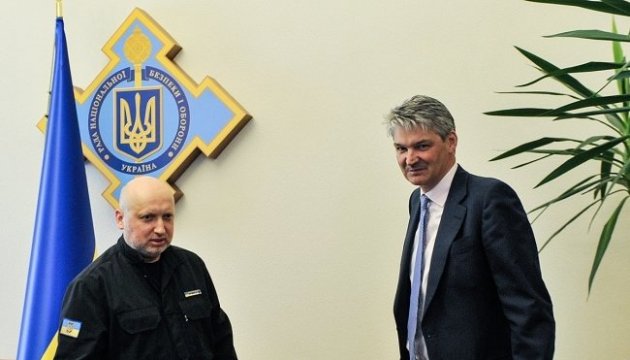 Ukraine's NSDC Secretary, UK's Permanent Secretary of Defense Ministry discuss sanctions against Russia
Secretary of the National Security and Defense Council (NSDC) of Ukraine Oleksandr Turchynov held a meeting with Permanent Secretary of the Ministry of Defense of the United Kingdom Stephen Lovegrove. During the meeting, the interlocutors discussed the situation developed as a result of Russian aggression in eastern Ukraine and the situation in the Middle East, the NSDC´s press service reports.
"Russia's actions show that it wants to change the architecture of the world that has developed after the Second World War," Turchynov said adding that Russia is conducting a hybrid war against Ukraine "not only on the battlefield but also in energy, information, economic and other spheres".
Secretary of the Ministry of Defense of the United Kingdom added that his country is concerned about an increase in Russia's militarization and "how the hybrid war initiated by Russia is unfolding".
In this context, the parties agreed that sanctions against Russia should not only be prolonged, but also strengthened.
In addition, Oleksandr Turchynov said that Ukraine is ready and interested in cooperation with the UK in the format of joint projects in the security and defense sector.
Lovegrove, in turn, stressed that the UK respects the territorial sovereignty and independence of Ukraine.
"Ukraine is one of our most important strategic partners, we are ready to stand next to your country helping and working with you at all levels," he stressed.
iy