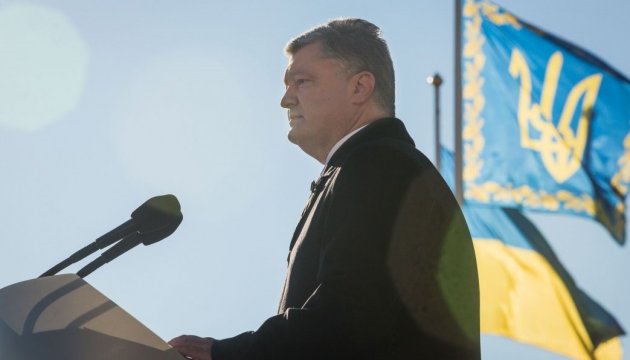 President Poroshenko: Armed Forces of Ukraine a more reliable guarantor than Budapest Memorandum
The Armed Forces of Ukraine are a significantly more reliable guarantor of security of our country than the Budapest Memorandum.
President of Ukraine Petro Poroshenko said this in the video address on the occasion of the Day of the Defender of Ukraine, posted on his Facebook page.
"Our guarantor is the Armed Forces of Ukraine, and it is much more serious than the Budapest Memorandum," Poroshenko said.
He noted that the external threat had accelerated the process of formation of the modern Ukrainian political nation on the principles of civic patriotism.
"Ukrainian-speaking and Russian-speaking citizens, citizens speaking other languages, Ukrainians, Russians, Crimean Tatars and other ethnic groups – all firmly uphold the position of Ukrainian patriotism and side by side protect our country with weapons in hands. Ukrainians are seriously set to continue to fight for their independence," the President said.
ol