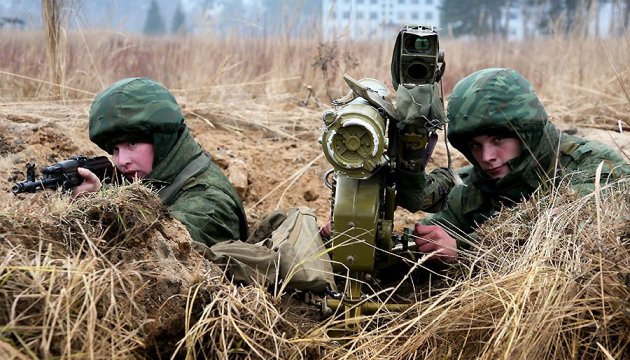 ATO Headquarters: Russia accumulates 6,500 servicemen and 600 armored vehicles in Donbas
The number of cadre personnel units of the Russian Armed Forces in the occupied areas of Donbas reaches about 6,500 servicemen, Spokesman for the ATO Headquarters Mayor Anton Myronovych told a briefing in Kramatorsk, the Donetsk region, a local Ukrinform correspondent reports.
"The Armed Forces of the Russian Federation have deployed nine battalion and six tactical companies totaling 6,500 servicemen in the temporarily occupied areas of the Donetsk and Luhansk regions," said Myronovych.
According to the spokesman, the contingent of the Russian Armed Forces in Ukraine may possess more than 200 tanks, 400 armored combat vehicles (armored personnel carriers, infantry fighting vehicles), about 150 units of the artillery systems, 100 units of the rocket multiple launch rocket systems (MLRS) and about 70 units of anti-air defense system.
He said that the figure for [the Russian] military personnel and weapons and military technology (WMT) does not list the first and second Army Corps, formed in the areas controlled by the so-called "DPR" and "LPR" respectively. Those both Corps also contain the Russian military, but they are not separated into detachments, and rather perform the functions of management and control in the commanding posts.
"In general the contingent of the Russian Armed Forces deployed along the Ukrainian state border and in the temporarily occupied areas of Ukraine totals 16 battalion tactical groups and eight company tactical groups, including the Crimean inter-army contingent of the Russian Armed Forces, 34,600 servicemen," noted the spokesman of the ATO Headquarters.
tl