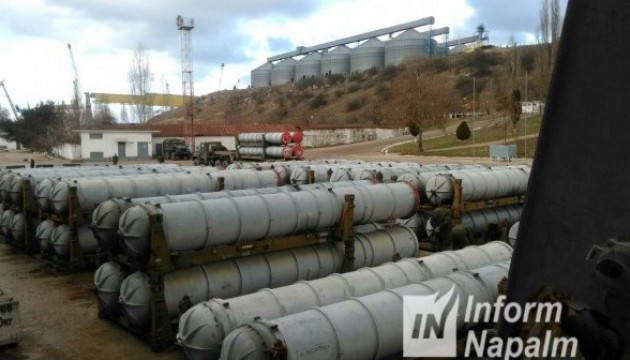 Russia adds more stockpiles of S-300 missiles in Crimea
Accumulation of about 40 transport-launch containers for anti-aircraft missile systems such as "S-300" has been detected in the seaport of Sevastopol.
They were presumably delivered to replenish ammunition for anti-aircraft missile regiments of the occupying Russian troops deployed on the peninsula.
This was established during OSINT-events (intelligence gathered from open sources) conducted by volunteers of the InformNapalm international community targeting Crimea.
"In the seaport of Sevastopol in the Autonomous Republic of Crimea, the Ukraine peninsula occupied by Russia, about 40 units of transport-launch containers for anti-aircraft missile systems S-300 have been discovered. A photo is dated February 3, 2016," a statement said.
The exact location of anti-aircraft missiles storage - outside the granary, where the Russian Navy is usually moors its ships.
"According to our assumption, these transport and launch containers for the anti-aircraft missile systems"S-300" have been recently delivered to the occupied Crimea. Apparently they are meant to replenish the ammo of the 12th and 18th anti-aircraft missile regiments stationed in Sevastopol Feodosiya cities, 31th division of anti-aircraft missile of the 4th army Air Force and Air Defense of the Russian Federation Armed Forces," the investigative volunteers noted.